Liberty Harbor RV Park – Review From Summer Visit
Some RV parks are all about location, location, location. And very little else. Liberty Harbor RV Park is one such place.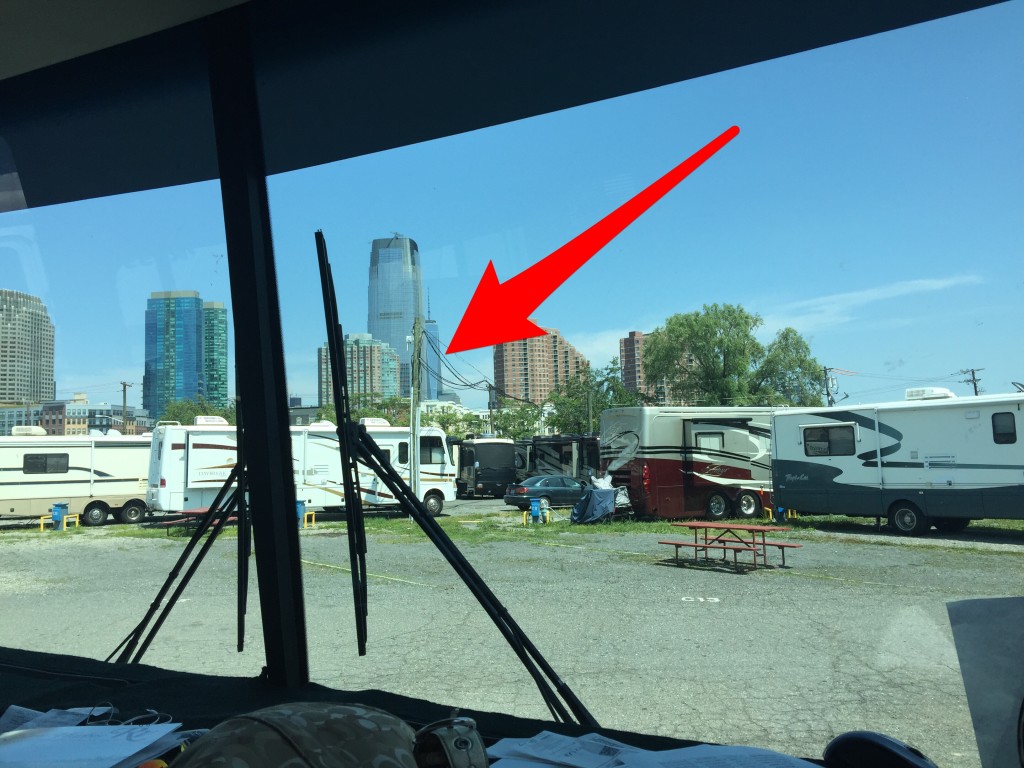 We visited this park in summer of 2015. We drove into town from Lancaster, PA (our prior stop).
I didn't know what to expect driving an RV anywhere near Manhattan. You hear so many horror stories of traffic anywhere near it. It wasn't as bad as I had envisioned. You definitely need to pay attention and not miss your exit, but followed the GPS and got the job done.
The best way to describe Liberty Harbor RV Park is….
Its a parking lot with hookups.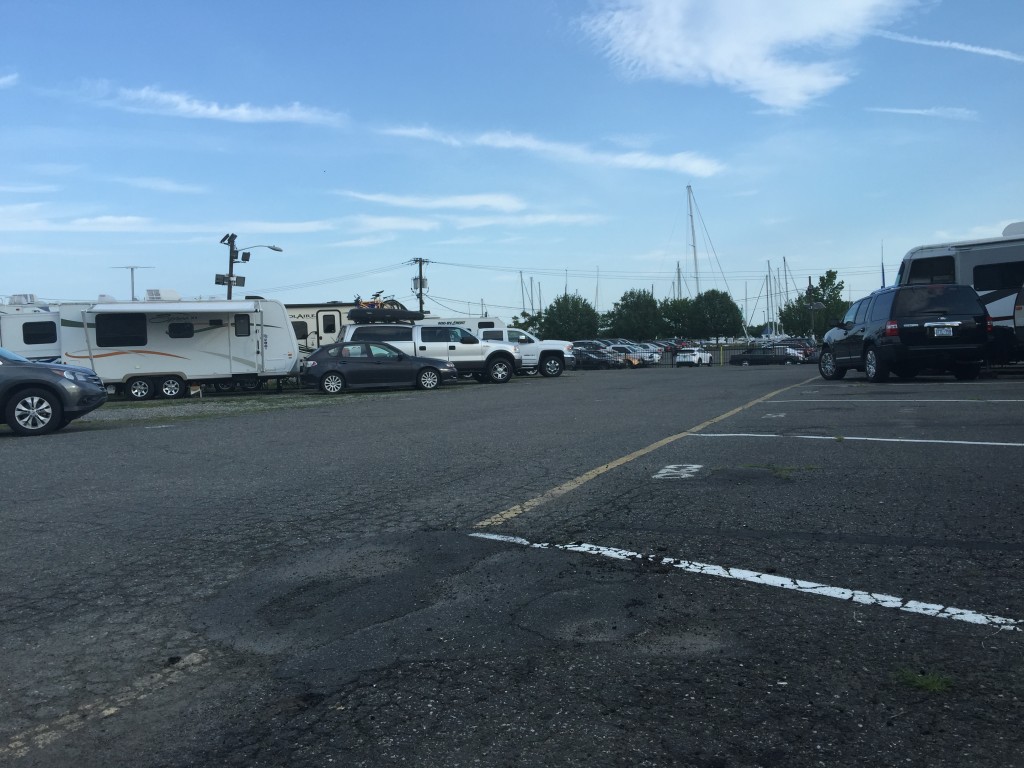 I mean, that's literally it.
The rigs are in there super close together. There is no grass. The entire thing is paved. It is, quite literally, a parking lot. They took a chunk of the parking lot for the harbor, fenced it off, turned it into a campground. One section has hookups and then there is a rear section for boondocking (used for overflow).
Doesn't' sound all that inviting, does it? But, let's be honest… we didn't come to New York City for mother nature. This is a city. THE city, really. So, obviously the campground is going to look very urban. Just be happy you're so close to things.
And, close you are. The location of this campground (or RV parking lot… take your pick) is stellar. You're right across from Liberty Harbor State Park. If you look in the right direction, you can literally see the Statue of Liberty right from your site.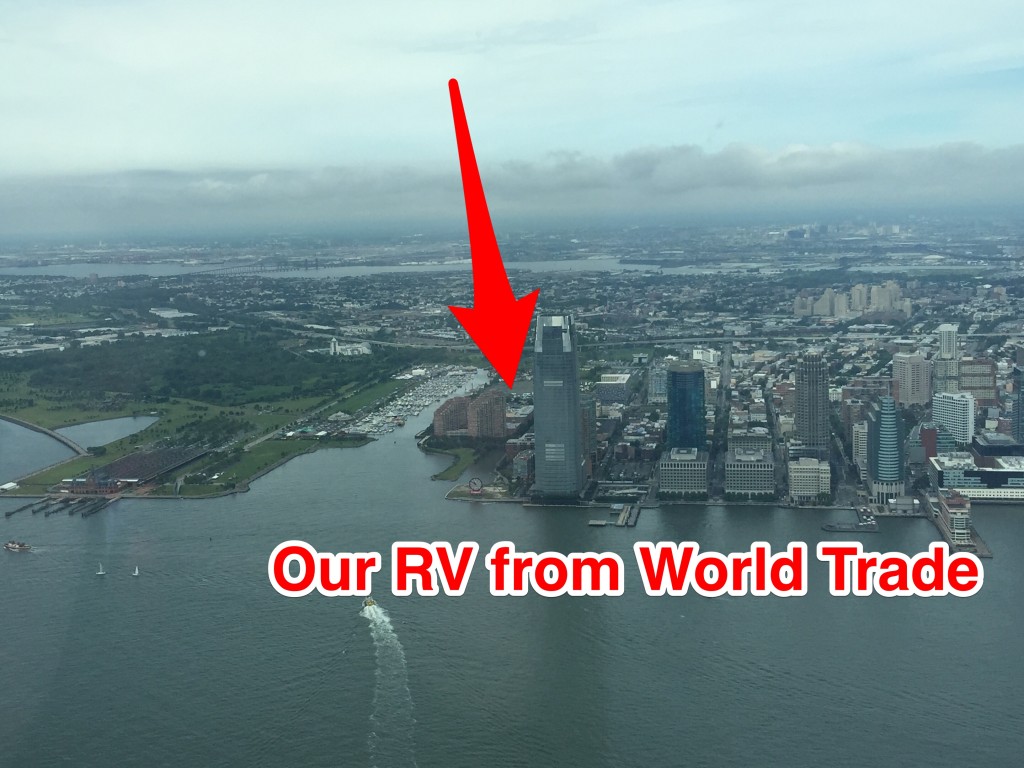 We had our bikes with us, so a few times we actually rode over to the State Park. If you have bikes with you, this is such an awesome place to go. Use your GPS and put it into walking mode and it will guide you. You are riding on some streets, over the track, over a boardwalk… but you can ride your bike direct from the RV park to Liberty Harbor State Park. From there, you've got a lot of space to ride around. And you're going to get the best skyline view of the city you'll find anywhere. Go around sundown. Just awesome.
Getting to the city itself isn't difficult. The easiest way we found was to walk over to the Grove Street subway station (part of the PATH system). It is about a 10 minute walk. From there, catch a subway you can be anywhere in Manhattan.
Beware of Electrical Issues
Alright, so now to the annoying part of this park.
We were there in the summer. Now, the days we were there, it wasn't as hot as it could be. But, it was still summer and people want to run their A/Cs.
I believe the site we were in was #22. It is on the edge of the lot next to the fence.
Well, this stretch of site had (maybe still has) bigtime electrical fuse issues. And the damn fuse kept popping and turning off electric for the whole stretch of sites along the fence. At the time, our rig was a 30-amp rig so it probably wasn't drawing nearly as much as others. The same circuit was carrying several 50-amp rigs.
It happened 4 or 5 times during out stay – which was only 3 nights. The fuse would pop and we'd have no power. Needless to say, we had to use the generator a fair amount.
The park staff wasn't exactly quick to handle it. I'd walk up to the office, let the lady know and she told me she'd have a maintenance guy reset the fuse. And that's basically how it went on. Every time the fuse popped, it'd be this waiting game to get the guy out there to reset it once again. And then cross your fingers and hope it won't pop again.
One night, we actually opened all the windows and slept with only fans running – no A/C. Because we were afraid it'd pop and then we'd have nothing.
They told us it was due to some construction happening nextdoor, but I'm not so sure. Talked to another guy in the campground who stayed there before and he said it was happening then, too.
I doubt they're in any big hurry to fix it. After all, they are the only option for RVers in the area. They basically have a monopoly here unless you want to be much further away. So, you just deal with it.
This whole time, the rigs closer in (not on the same circuit) seemed to have power with no issues. So, I suspect we just happened to be on the problematic circuit.
All In All
You simply can't beat the location of Liberty Harbor RV Park. Can't say much for the campground itself. It is about as urban as you can get. But, if you want to be close to stuff, you can't beat it.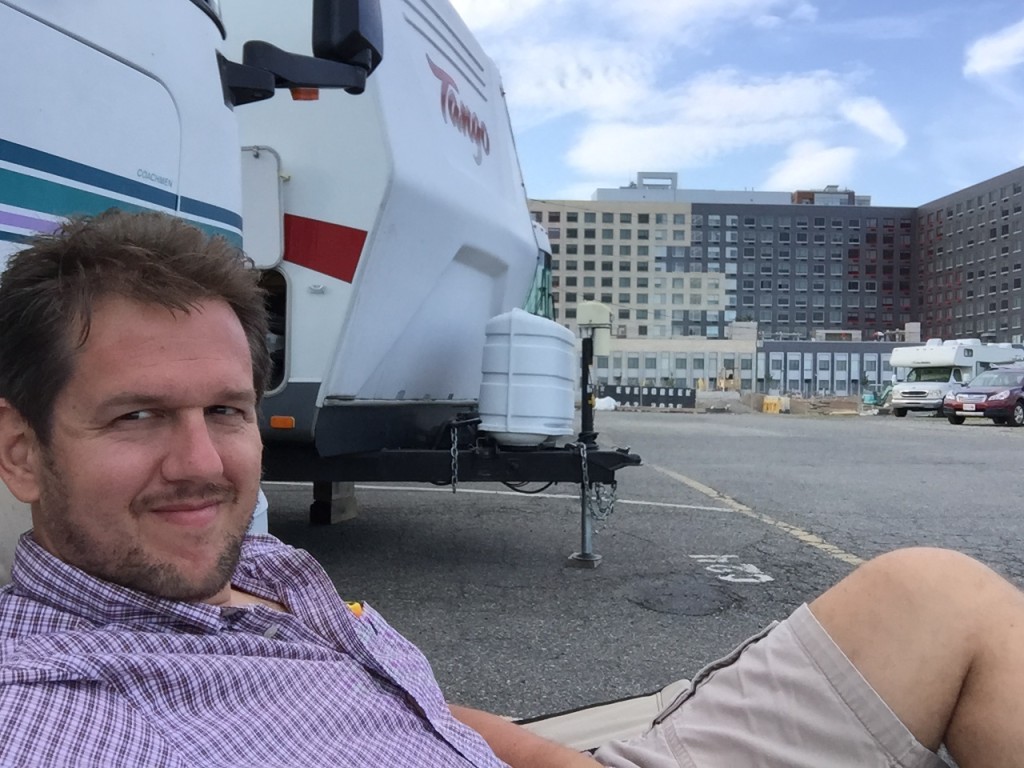 We will likely be going back this year, if that tells you anything.
However, we're going to make sure not to be on that same electrical circuit. 🙂 Get on the circuit close to the office. At least then, if the power pops, it'll affect them and maybe they'll do something about it sooner.