Inside The Sun-N-Fun RV Resort: Campground Review From Sarasota, FL.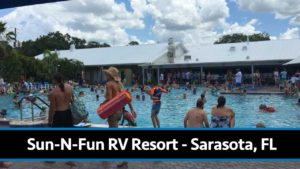 There's the typical campground… then there's the RV resort. There's often a big difference… and the Sun-N-Fun RV Resort in Sarasota, Florida is certainly no exception.
I took the family to Sun-N-Fun on Memorial Day weekend, 2016. I'm guessing it is one of the busiest weekends of the entire year.
The Sun-N-Fun RV Resort is a Carefree Community, which means it is part of a larger network. Also, Carefree isn't just about standard RV camping. They sell the lifestyle to people who wish to put mobile homes and modular homes on the property as well. For this reason, your campsite at Sun-N-Fun is very likely going to be mixed up among mobile homes.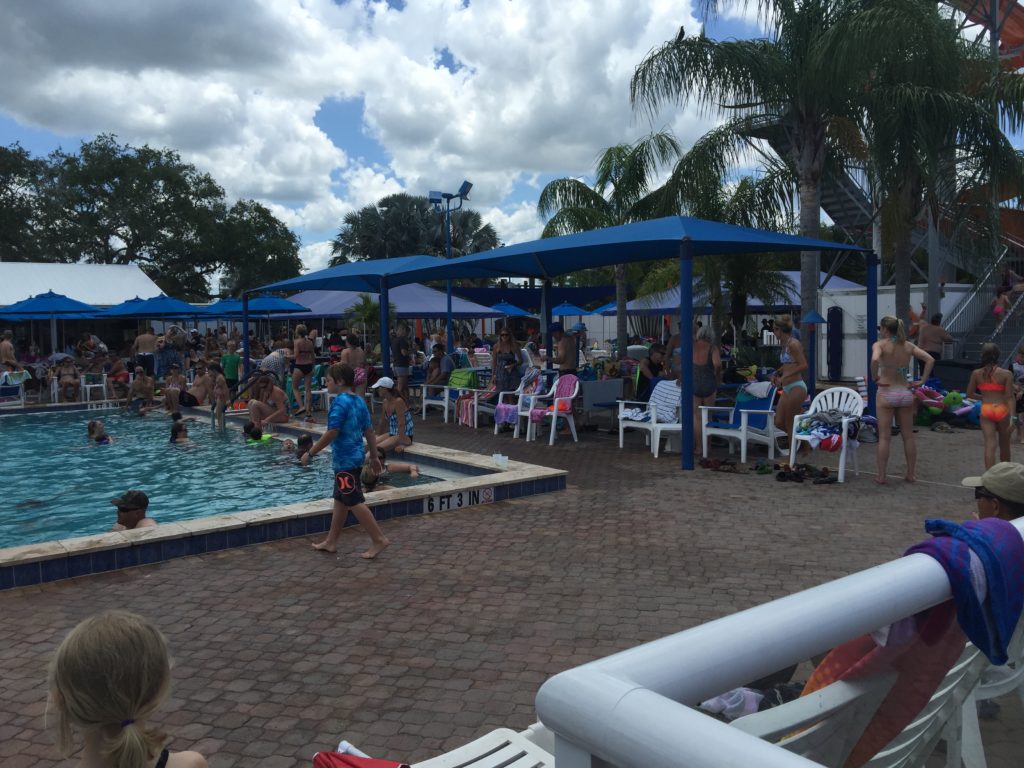 Whether you want to call it a campground or a resort, one fact remains: This place is HUGE. They have 600 RV campsites on the property and I don't believe that even includes the permanent mobile homes. A look at the resort map shows site numbers going up into the 1600's.
You'll definitely want a bike or a golf cart to get around because walking this place would take quite awhile.
We stayed in site 918. The site itself was nothing special. The view out the windshield of our rig was a bunch of mobile homes. Our next door neighbor was a mobile home that sat empty and, honestly, looked abandoned. Site 918 was a simple grass/sand site.
Honestly, not knowing what to expect when I arrived, I was a little underwhelmed with our site. In fact, I had planned to get a nice photo taken of my whole family in front of our RV for use on this very blog. 🙂 But, I thought our site looked a little… fugly. So, I decided to skip it and do it another time. If I'm going to put a photo on the homepage of RVFT, it needs to be better than site 918. 😉
That said, it did have full hookups, including cable TV. This is standard through the whole resort.
Site 918, however, is the cheapest level of site in the complex. We paid roughly $50/night for it, but they went up from there. And a look around the rest of the resort showed that they certainly had sites that were much nicer than the one we stayed in.
Here's a video I recorded to show the interior of the Sun-N-Fun resort. A few notes about this video beforehand:
I start out at site 918, showing where we were. As you will see, nothing special.
I then get on my bike and begin riding around the resort while recording. I speed up the video here to 1.75x for the sake of time.
I show the pool area, then return back to my campsite.
OK, here it is…
After getting a better feel for the place, I would certainly consider paying the extra money to upgrade to a nicer campsite. My site recommendations would be the K or Q sites. These are the yellow sites on the resort map. The Q sites are particularly nice and some offer shady oaks over top the sites. Most of the sites throughout the resort offer spotty or no tree cover.
So, the quality of the sites vary quite a bit, depending on how much you're willing to pay. However, as I said, all sites have full hookups including cable TV which works quite well.
But, let's also be clear…
People don't come to Sun-N-Fun for a rural RV camping experience. This is an urban place. You aren't even allowed to have campfires.
You come to Sun-N-Fun for the activities and this resort has PLENTY to choose from.
In fact, if you come here with your family, chances are your RV will be just a place to sleep. You'll be out in the resort much of the time. Here's a sample of the 152 different activities (according to them) that you can do:
The massive pool
Two hot tubs
The pool-side restaurant and bar
The kiddie pool
Indoor wellness center, with full gym and indoor pool
Archery
Mega-slide
Horseshoes
Lawn bowling
Woodworking shop
Playground
Mini-golf
Bocci Ball
Bounce pillow
Tennis courts
Volleyball court
Shuffleboard
Disc golf
You get the idea. There's a TON to do and you'd play hell getting bored here.
In terms of daily activities, the Sun-N-Fun resort reminds me a lot of being on a cruise ship, in fact. The pool area almost reminds me of the deck of a cruise ship, with a ton of lounge chairs around the pool. There's even a newsletter they gave us at the beginning of the weekend with the schedule of events we could attend.
The only thing missing were the towel animals on our bed in the RV when we got back. 😉 (Shout out to Carnival Cruise Lines.)
The family had a lot of fun while we were there. And a lot of other families did as well, judging from the looks of it. My wife and I have been in a lot of campgrounds where we are among the youngest in there. However, at Sun-N-Fun, there were a LOT of families there. A ton of kids. Plenty to do.
I don't know how busy the place usually is. As I said, we were there on one of the busiest camping weekends of the year. Actually, we'd prefer to go back at a less busy time.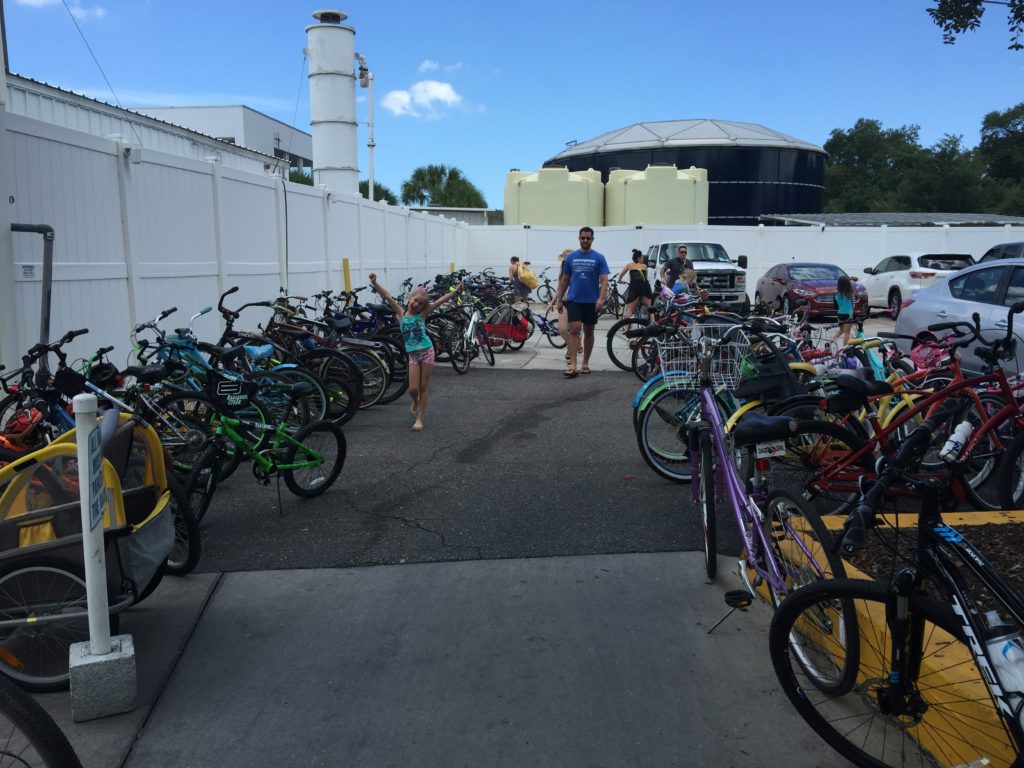 The Final Points
All in all, Sun-N-Fun is a great, family-friendly RV resort which offers a TON to do for adults and kids alike. If you want an experience which feels strangely like being on a cruise while you're sleeping in your RV, you can get it here.
As I said, some sites are better than others. Generally, your premium or deluxe sites are nicer. We stayed in a standard site and while it was nothing to look at, it still had full hookups and got the job done. Your standard, cheaper sites will be grass and you may be among the permanent mobile homes on the property.
If you're looking for a more rustic, quiet camping experience, this place isn't your first choice. This isn't country camping.
This is RESORT camping. 🙂