Fort DeSoto Park RV Campground Review: Not Much Has Changed In Last Few Decades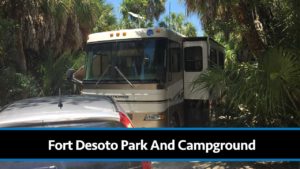 Fort Desoto Park. It has been a camping staple of the Tampa Bay Area for decades.
In fact, I have many memories of camping here when I was a kid. We'd come here with our RV and boat and stay on the canal sites. I've done my fair share of castnetting in the inlets around the campground, fishing for mullet. Cleaning fish on the green picnic tables and having to fight off the seagulls. Playing with my cousins all over the place (who are all now grown as am I). I've boated all around the area.
Basically, Ft Desoto has been the very definition of camping for me for as long as I can remember. It is part of my childhood.
As I grew up, went to college, got married, started a business and had kids… I went for quite awhile without coming to this place. Probably a good 15 years. Maybe 20.
Now I'm older. Have my own family and RV. And when I bought my first rig, Ft Desoto was on my short list of must-do campgrounds. It was almost as if the rig wasn't "official" until I had camped there in it. After all, as I said, this place has always been mentally associated with RVs for me.
Almost 2 decades later, and barely anything has changed.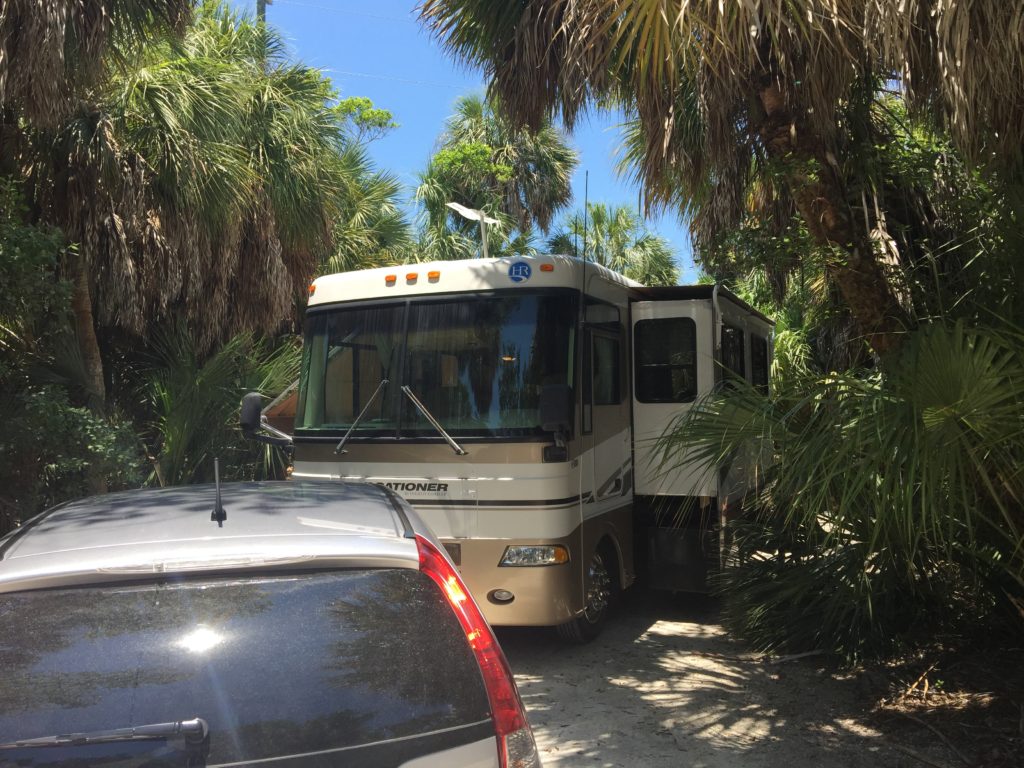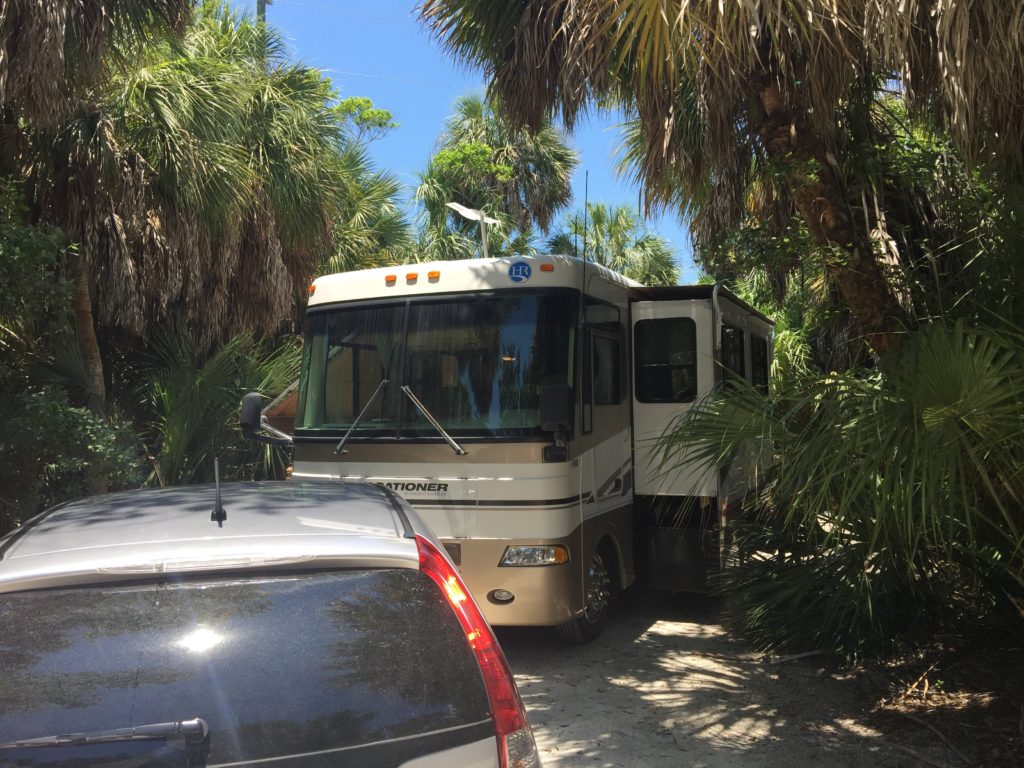 The camp store is fancier now and up on stilts, and they have a toll getting into the park now. The front office building has been renovated. But aside from that, the place is practically frozen in time. Sitting in my campsite, it looks just like I remember when I was a kid. No difference really, aside from the RVs look newer and, of course, one of them is mine. 🙂
I'm a bit partial to this place, but honestly, it really is one of the nicest campgrounds out there. If you're after a classic Florida beach camping experience, it doesn't get a lot better than this.
The Campground Itself
All the sites are semi-private, with thick palms and foliage on either side. A lot of the sites are directly on the water. All of them are big rig friendly.
In terms of facilities, you're got basic water/electric only. 30/50 amp. Sewer hookups would be very nice, but no dice there. This is a county park, not an RV resort. No cable tv, however strong signals over the air. Satellite dishes would likely work, however you'd want a site that had some tree openings over top. More on that below.
The bathrooms are convenient and always close to any site you stay in. They're not fancy. No air conditioning. Water pressure tends to vary between "firehose" and drizzle. If somebody flushes the toilet, your shower may dwindle for a bit. Bathrooms are open air, which means you may get mosquitos and the like visiting you while you shower. The floors are bare tile and it gets a little dirty, so you'd definitely want to wear sandals in the showers.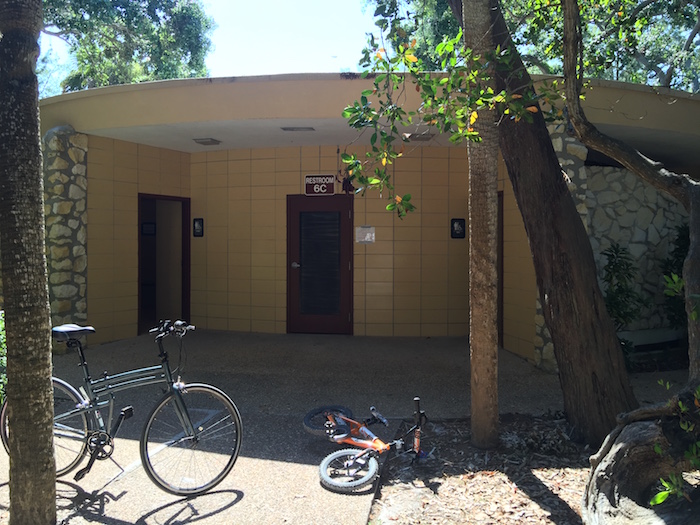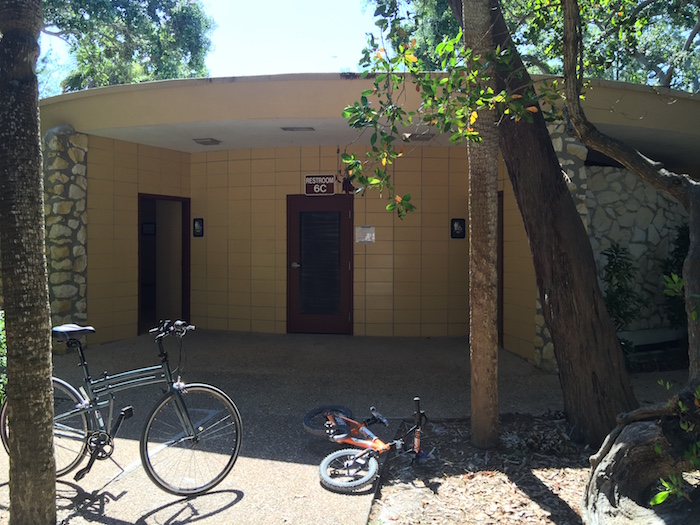 Basically, the bathrooms need to be updated. They literally haven't changed AT ALL in the decades I've been visiting this place. But, they'll work. They get the job done.
The camp store is pretty well stocked. Basic groceries, snacks, camp supplies, fishing stuff. They now have a nice covered deck upstairs where you can lounge and use the free wifi while overlooking the canal.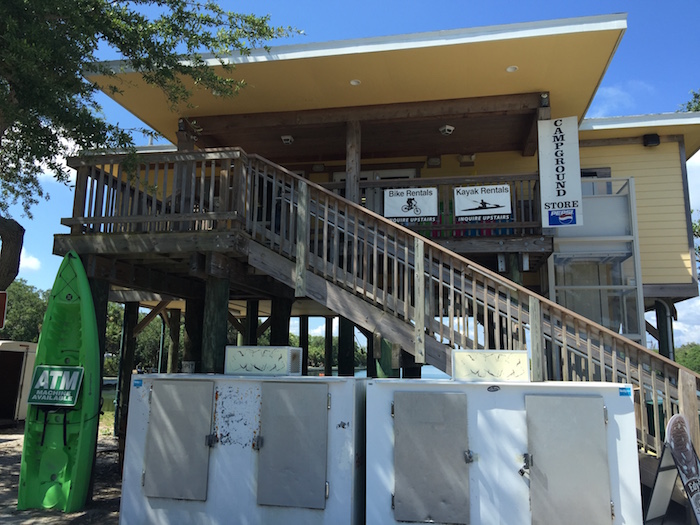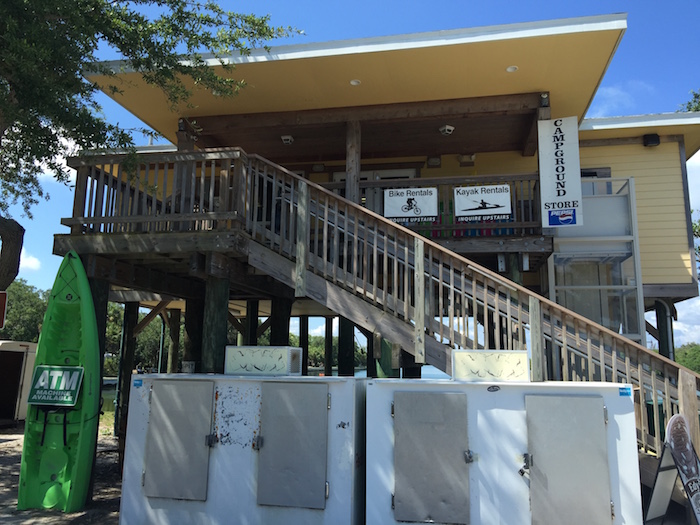 The main waterfront loop is not open to pets. The other loop is pet-friendly. And if you have kids like I do and want to be near playground, you'll need to be on the pet loop. The third loop is for tents and small pop-ups only.
In terms of activities, you've got the beaches – obviously. Beautiful beaches.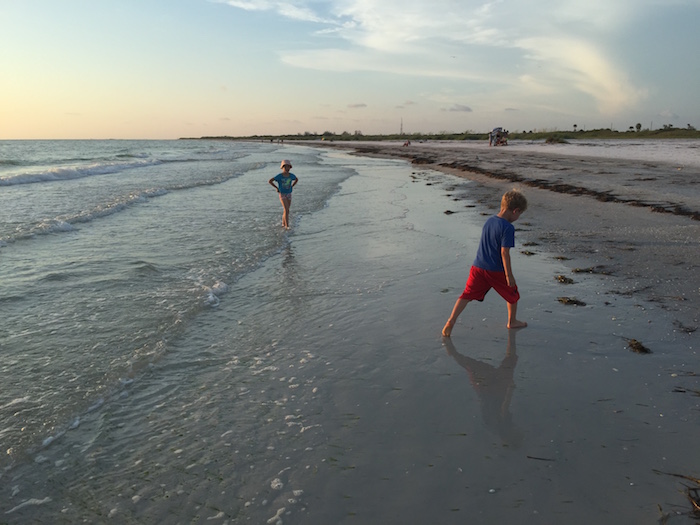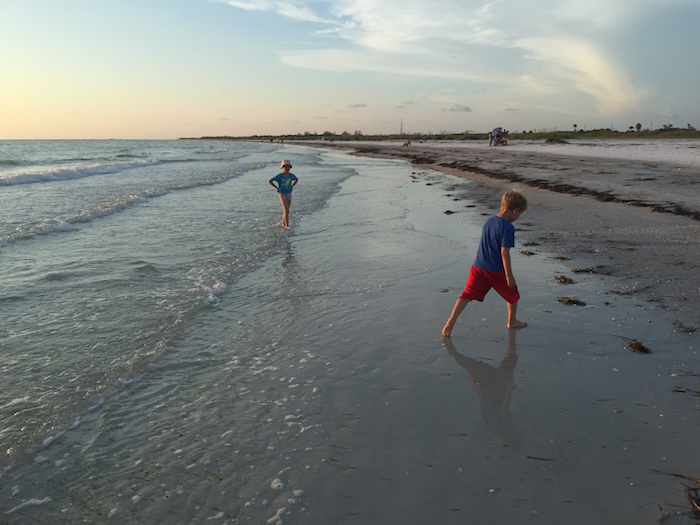 You've got the old historic fort which is worth at least one walk-through. All the fishing you can manage off the beaches or the big fishing piers. If you have a boat, you've got a big boat ramp right near the campground to launch from.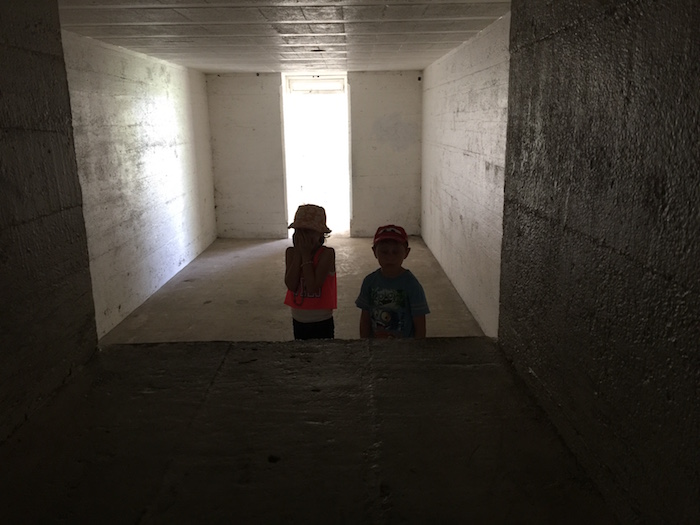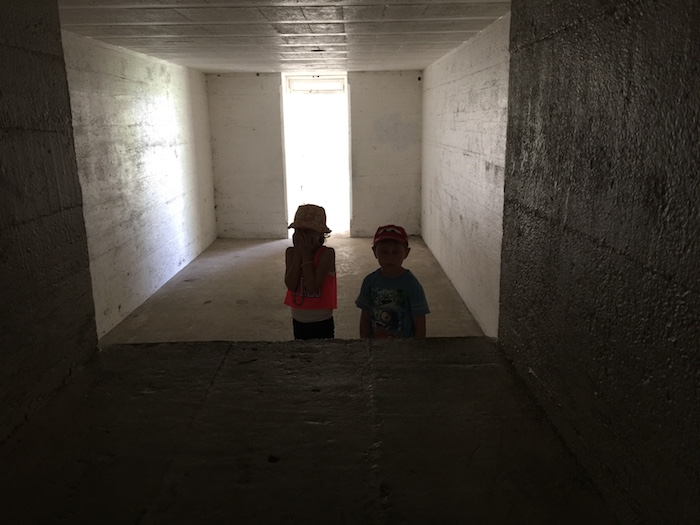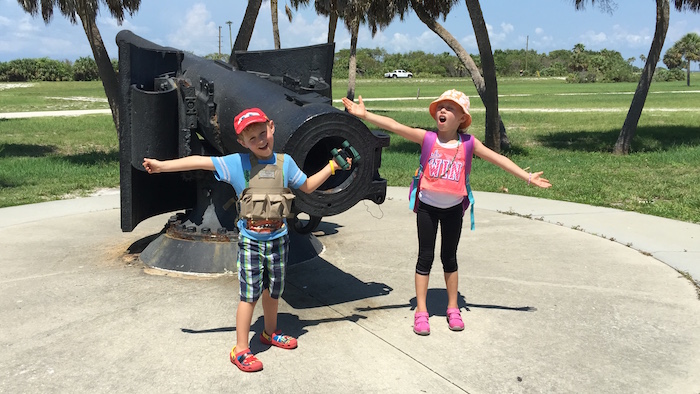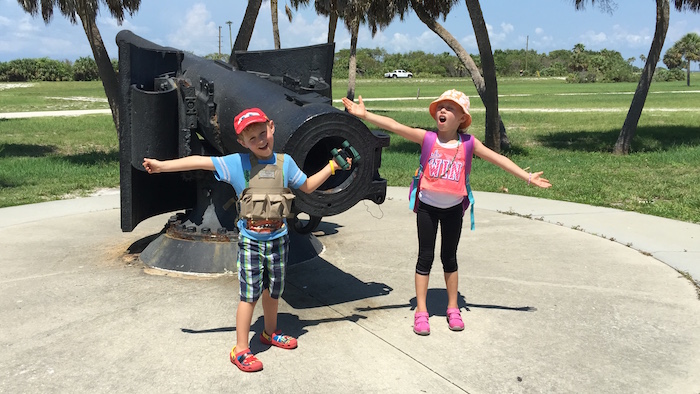 Aside from that, you'd need to leave the park. In fact, even just to visit a grocery store, you'd need to drive around 11-12 miles. Ft Desoto is out on an island and the nearest little town is Tierre Verde. It's full of condos and little beachy places but not much else. So, to run any errands, you need to head up into St Petersburg. There's a Publix and Walmart Supercenter up on highway 19, about 12 miles from camp.
Some Advice About Staying At Fort DeSoto Campground
Bring a fan. Mosquitos and no-see-ums do exist here. Not as bad as many other places I've been, but you may appreciate having a fan outside your RV to blow them away.
Don't leave food out. This place has a lot of raccoons and they're used to people. They WILL come steal your food.
If you're going to stay awhile, it'd be good to have a portable dump tank. There's no sewer hookups here, and it'd be a pain to have to move your rig just to dump.
What Are The Best Sites?
The sites with the nicest views are 201-206. Nice open unobstructed water views.

Sunset right from the back of site 203.

Got a boat? Even numbered sites 165-195 are on the canal and you can have the boat right behind your site.

The boat canal with campsites right next to it.

Sites 207-225 are also waterfront, however you'll have some foliage in spots behind your RV. So, while you will have direct access to water, you might not have an open view of the water.
Odd numbered sites 167-193 are all pull-throughs. Nice long sites and most have quite a lot of tree cover which is beautiful, however could pose a potential issue for satellite dishes.
Sites 234-236 are pull-through right off the concrete road. These sites are more open and are going to be noisier since you'll see the RV and car traffic going through the campground. Wouldn't be my personal choice of sites.
Even numbered sites 86-126 back up to a canal with a lot of tree growth. These are nice secluded sites, generally. Many have thick tree cover, but not all.
Sites 114 and 118 are right next to the big water tower. Honestly, the view isn't that great. Looks too urban having that big metal thing right next to you.

114 and 118 are right up against the water tower. Not exactly the view I'm looking for. Back when I was a kid, it was just woods. These two sites are newer.

If you have young kids, the nicest playground is next to bathroom #4. So, odd numbered sites 117-127 literally back right up to the playground. Sites 128-134 also have direct views to the playground, although you'll be across the road from it.

The nice playground, viewed from site 123.

128-138 are nice sites with waterfront. Close to playground. Lots of tree cover.
Got a satellite dish which needs sky view? Most of your edge sites will be OK. Generally, your pull-throughs are fairly covered in trees. Your best bet would be to have a dish you could put on the ground and move around.
You can see photos of any site in the campground online. Just view the park map on their website, click on the area you want to see. Then, hover over and click the exact site you want to see. You'll see a short description of the site and a photo. Click on the photo to enlarge.
Getting Into Fort DeSoto Campground
Ft Desoto Campground is notorious for being difficult to get a site.
From my perspective, it is really something to see. When I was a kid, this place wasn't hard to get into. You could almost drive in unannounced and get a site. I guess just us locals knew about it .
But today, this place is much better known and there are more people RVing. So, you've got a lot of competition to get a site.
Generally, if you can come in off-peak times (usually middle of the week) you can almost always get a spot. But weekends are often booked months in advance. And popular camping weekends (like holidays) see a LOT of competition.
Reservations are booked up to 6 months in advance, and for those popular times you need every bit of that to land your spot. There is often way more demand for this campground than there are spaces.
Booking a reservation is best done online. Their interface is quite outdated, but it is functional. You will need to pay for the whole reservation in advance. You can make changes or cancellations, although they recently instituted a $5 fee for that.
Interestingly, I've observed many times that this campground is fully booked up online, yet when you're actually there in person, you'll find many empty sites. All I can conclude is that somebody booked it and simply didn't show up. Why they would do that, I have no idea.
When you try to book your site here, don't be surprised if you find the place fully booked. Your best bet is to book 6 months out from when you want to be there, if you have a specific site and date in mind.
People do make changes to their reservations or leave early, and their online system updates at 7AM Eastern each morning. So, if you're really eager for a specific site, you can check the system as close to 7AM as you can.
The campground reserves around 10% of their sites for walk-in's and they are released each Friday at 7AM.
If you wish to stay here for extended timeframes, realize that you are limited to 14 day stays. During the winter months, this is a strict rule. During the other months, you can possibly extend another 14 days but that's dependent on availability. These 14-day stints are consecutive, which means if you wish to stay longer than that you will need to make multiple reservations AND you will need to temporarily re-locate to another campground and then return.
Final Thoughts
I love Fort DeSoto. Of course, I am partial to the place since it has been part of my life almost since I was born.
But, it is truly a beautiful campground and park. One of Florida's finest.