Crossing Creeks RV Resort: A Beautiful Stay In Blairsville [REVIEW]
5 years ago, we had rented a cabin in Blue Ridge, GA. During our stay there, we discovered the little town of Blairsville in northern Georgia.
We loved the weather at the time – something my wife always pays a LOT of attention to. 😉 And so, in 2017, we decided to visit Blairsville again. Only this time… with our motorhome.
Our search for a campground led to the Crossing Creeks RV Resort.
We reserved for a week. Ended up saying 2 weeks.
Not Really A Campground. An Actual Resort.
I've been to many "RV Resorts" that I found not to be anything like a real resort when you arrive. That word "resort" is one that I find gets misused when it comes to places to park your motorhome.
But, Crossing Creeks truly deserves the label. In fact, calling this place a campground wouldn't even be accurate.
Crossing Creeks has a focus on people buying and owning RV lots. In fact, the resort is more like a traditional neighborhood with amenities. It has an HOA and everything. 🙂 And many of the folks in there actually own the lot they are parked on.
Some owners rent their lots out and Crossing Creeks manages it for them. So, as long as that remains the case,  you can come into Crossing Creeks and treat it like a traditional campground for a shorter stay.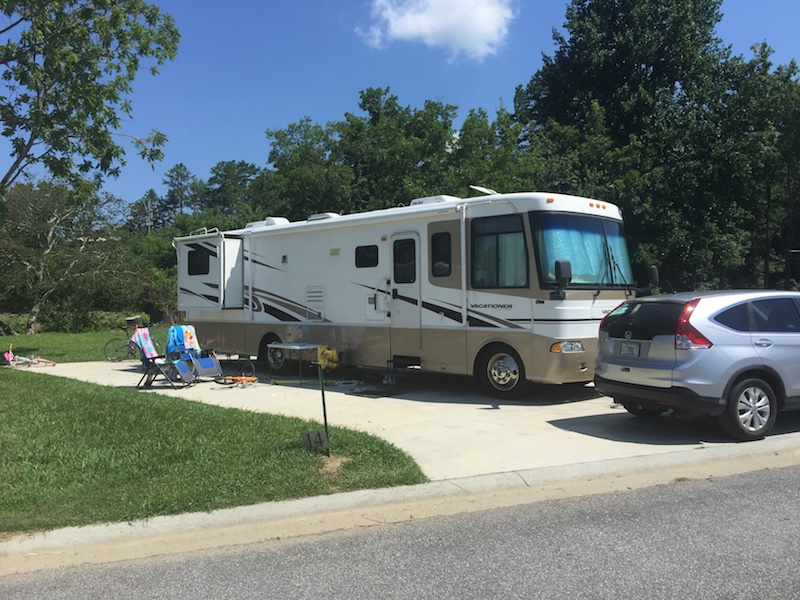 The amenities are many:
Beautiful paved sites.
Full hookup
Full TV hookups
High-speed fiber optic internet at all sites
Pool and jacuzzi
Bathroom facilities with gorgeous showers
Gym and sauna
The ground are very well kept. You can tell they put a lot of work into keeping the place worthy of a magazine cover. There are many fountains throughout the property, beautiful trees and more.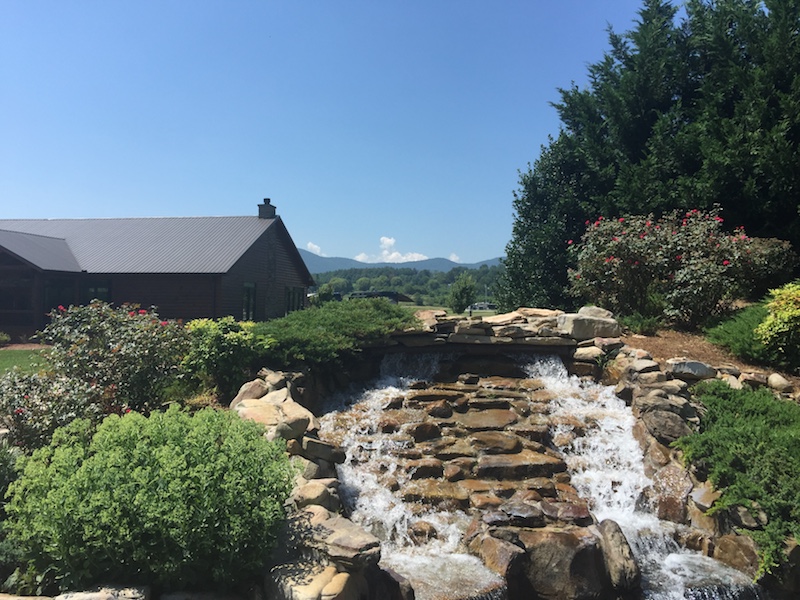 Plus, you've got those views of the mountains.
There's a really nice Ingles supermarket about 3 miles away and a Walmart Supercenter even closer so you've always got the supplies you need. If you need anything done to your RV while there, you've got Toby. 🙂 Toby is the mobile RV guy who frequents the place. Nice guy and quite confident, fast and affordable with anything you need done. I worked with him to repair our awning after our freak storm. He can do anything except for engine/chassis work.
The Amenities
While kids are allowed, of course, this isn't your classic family campground. No mini-golf. No bouncy pillows. It isn't that kind of place.
This is an adult-oriented community because this place is geared toward long-term lot ownership. Because of that, many of the amenities are quite first class.
We used the pool and hot tub pretty much every day we were there. Both are awesome and the surroundings are great.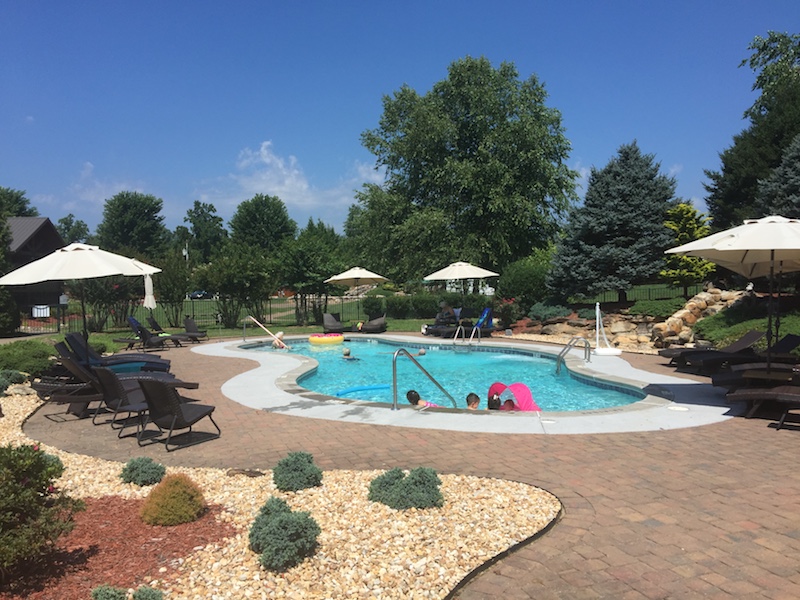 The showers/bathrooms are very nice – some of the nicest I've used while camping. The showers are tiled and large while having both a handheld shower and a rain showerhead coming from the ceiling. It really is class. Oddly, not many people use it. Every time I was in the shower I was alone in the room. Most people, I guess, shower in their motorhomes.
They've got a nice gym that I used a few times. Has a few treadmills, a ski machine, free weights and a few other things.
There are 2 saunas. We didn't use them, but they're there and look very clean. In that same building are 2 massage chairs that were free to use. While I'm not a huge massage guy, my wife fell in love with those chairs. 😉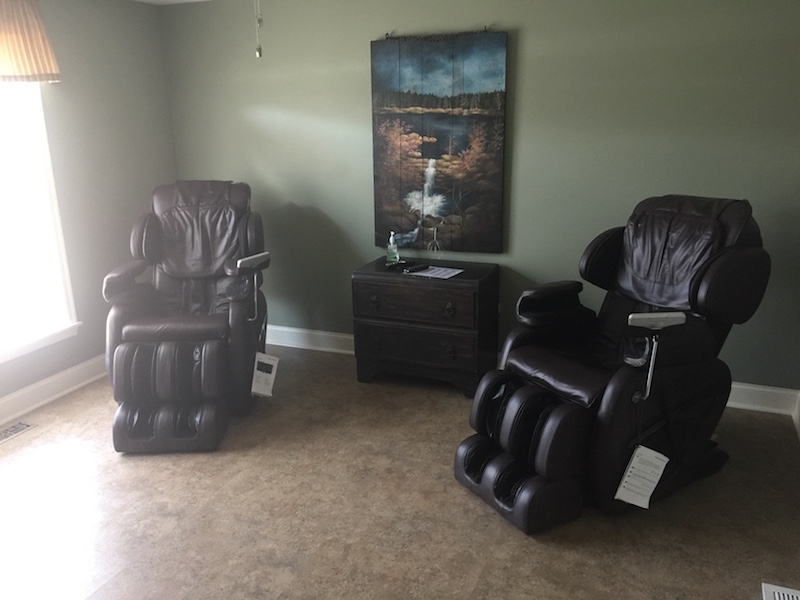 There are events going on most every day. Sometimes games of various kinds. Sometimes food. Saturday mornings they have a decent little breakfast being served which includes pancakes, eggs, sausage and more. It runs $5 for adults and kids are free.
A Few Tips On Staying At Crossing Creeks
While the view of the mountains is great, you won't have any trees. A few of the creekside sites have trees on one side, but most sites are exposed to the sun. So, you'll need your awning and some sunshades.
We stayed in a creekside site (site #14 to be exact). The creek is nice, but not large. If you're expecting to hear the sound of water rushing over the rocks all the time, this isn't it. Creekside is still nice because you have the space and grass next to your site, but the creek itself wasn't a huge draw.
The TV hookups are not cable. It comes from an Ethernet connection at the post and then into a box they will give you. In order to connect up your TV, you'll need to run a wire into the rig and connect directly to the HDMI on your TV. We just ran the wire through the slideout, but you will need to be able to reach the rear of your TV to connect their box. If you have more than one TV, they'll give you multiple boxes.

This is the site post where you connect everything, including TVs and Internet.

The internet service there is awesome, but keep in mind that it works just like the TV. Run an ethernet cable (they'll supply it to you) from the LAN1 connection on the post and into your rig. If your computer has a wired Ethernet port, you can connect directly to it. In my case, I have an Apple Airport Express in the motorhome. I ran the cable to that then used the Airport as a wireless router inside the motorhome. Very fast connection.
If you want a campfire, you'll need to be able to raise if off the ground. There are no fire pits. Bring your own fire pit which sits on legs and you'll be fine.
Final Words on Crossing Creeks RV Resort
This area of northern Georgia has a lot of places to camp. You've got a lot of options, ranging from primitive tent camping, to wooded RV sites… all the way to fancy resorts like Crossing Creeks.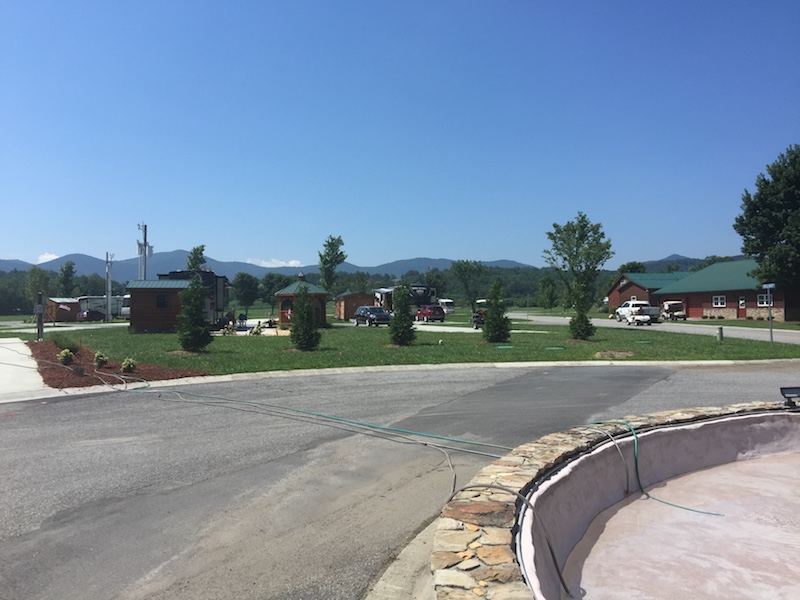 We really enjoyed our stay there – a huge reason we ended up staying twice as long as we planned.
Since I work online, their internet connection was great for me, too. 🙂
We would definitely stay at Crossing Creeks again. The place is likely going to get much bigger, too, in the coming years. There is a large chunk of empty land next to the place which is for "Phase 2" of their development. A few hundred more lots going in, complete with a second community center and pool facility. So, this place will remain one of the nicer RV resorts in the area for some time, I'm sure.
By talking to many people, it seems that many people come to Crossing Creeks and end up buying a lot. Buying a lot doesn't make any sense for us, however I can see why many would be attracted to it at this place.