E.G. Simmons Regional Park – Campground Review (By A Floridian)
My wife is cool.
One of the many reasons I say that is because she lets me go out camping in the RV alone periodically. 🙂
Perhaps every 2-3 months, I go out for a little one-nighter somewhere. I do some business planning, some unwinding. And I am grateful that I'm able to put a home away from home in cool locations and do such a thing.
Well, one of the local campgrounds to where I'm based is E.G. Simmons, in Ruskin, FL.
Right on the banks of Tampa Bay, this park offers picnic areas, boatramp, party shelters. And, of course, the campground. It has a little beach, too. However, it isn't that great.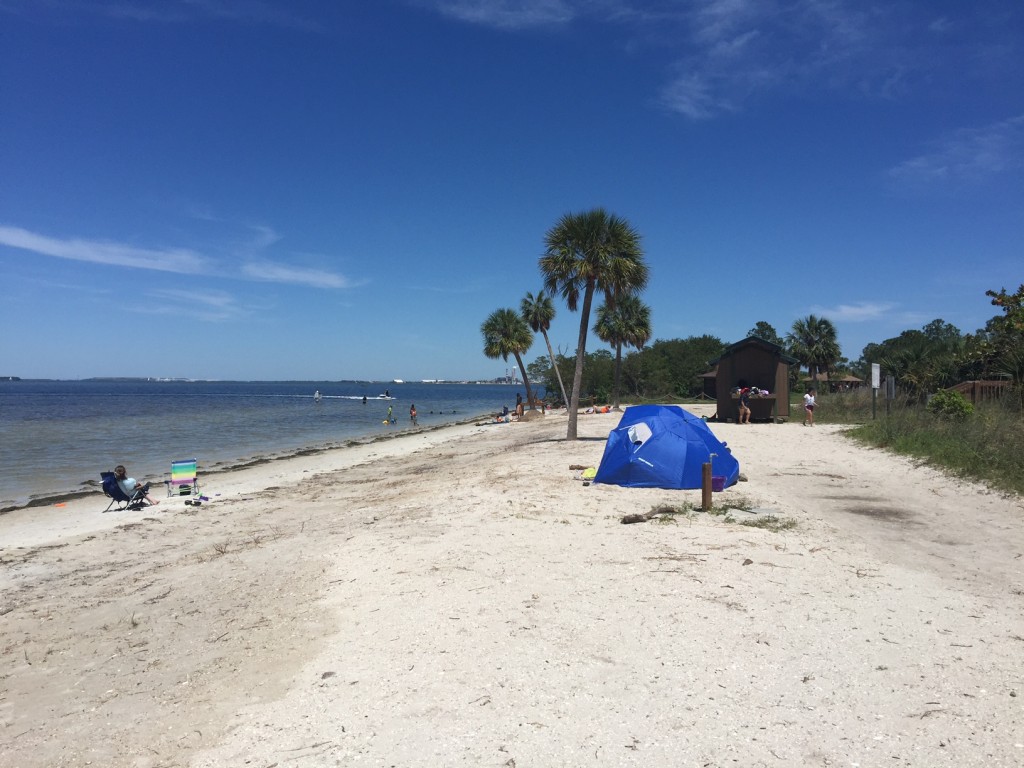 I've been coming to EG Simmons off and on for years. Even as a kid, I would camp at this place with my grandfather. He was big with the castnet and we would fish for mullet in the area.
EG Simmons doesn't stack up to the likes of Ft DeSoto Park (on the other side of the Bay), but it is still a nice place to camp.
The Campground
The campground is broken up into two loops, each on separate ends of the park. Paved roads throughout, however none of the sites are paved. Sites are a mix of compacted sand and grass. Most sites are fairly level, although some will require you to even out your rig.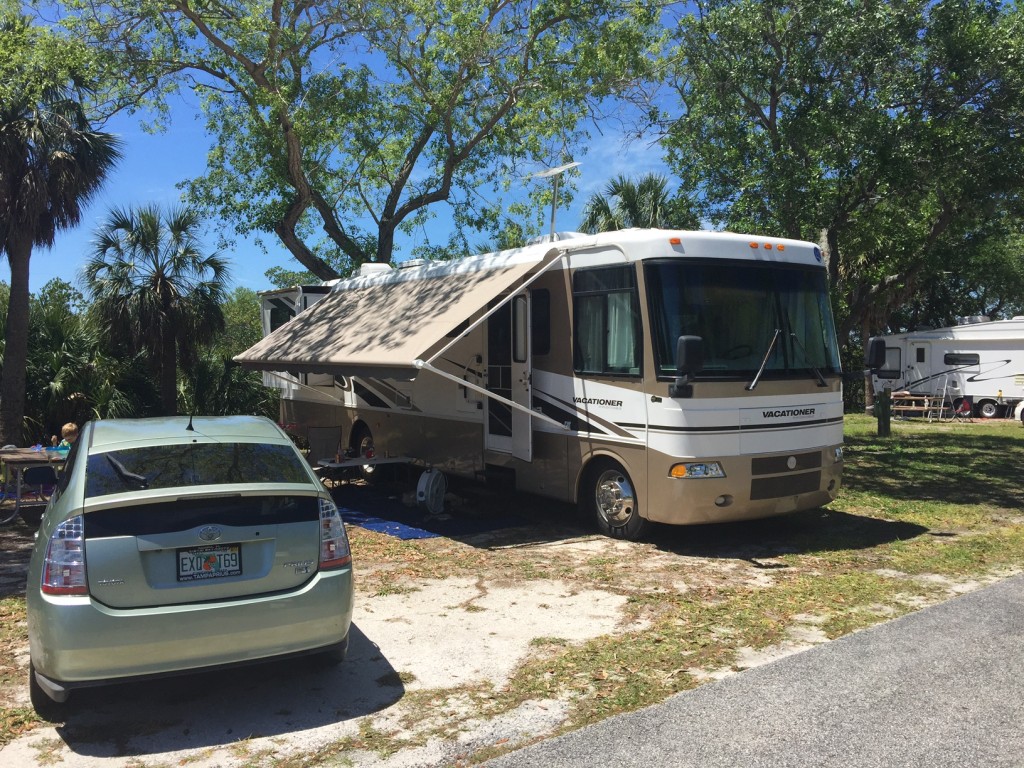 Many of the sites back up to the canal and mangroves. If you have a small watercraft, you could launch it right behind your campsite. Larger boats would need to use the boatramp. Kayaking is quite popular around here.
All sites have water and electric (20-amp and 30-amp service only). No sewer hookups, although the dump stations are clean and convenient. No cable TV, however you can pick up a number of signals over the air.
Sites are pretty spacious, but they are open. While you won't be looking into your neighbor's windows, you will see them. No trees to provide privacy. Like most campgrounds, really.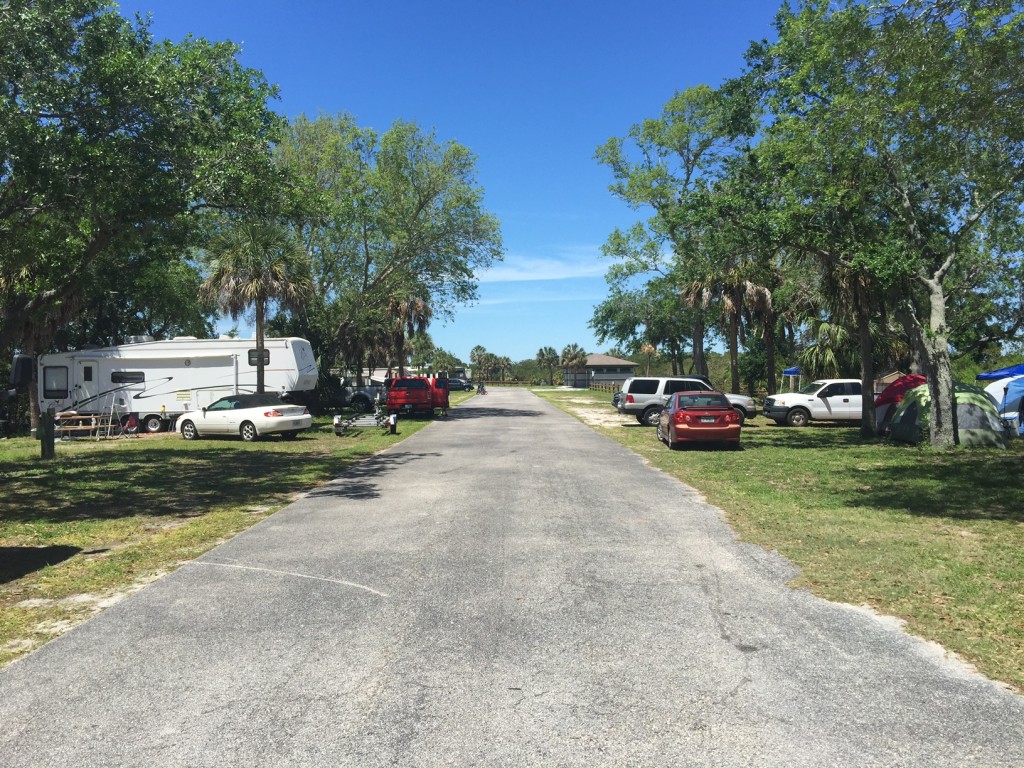 Bathrooms are clean. Nothing special, but they work just fine. You won't be disappointed unless you expected the Marriott.
In terms of shade, it all depends on your site. Most sites are out in the open, however there are some where you can get some trees over top.
All sites have a fire ring. No grill. Bring your own. Also, they don't sell firewood here, so you'd need to bring that, too.
For the kids, one of the loops has a little playground and shelter right next to it. The bigger playground, though, is out in the public area.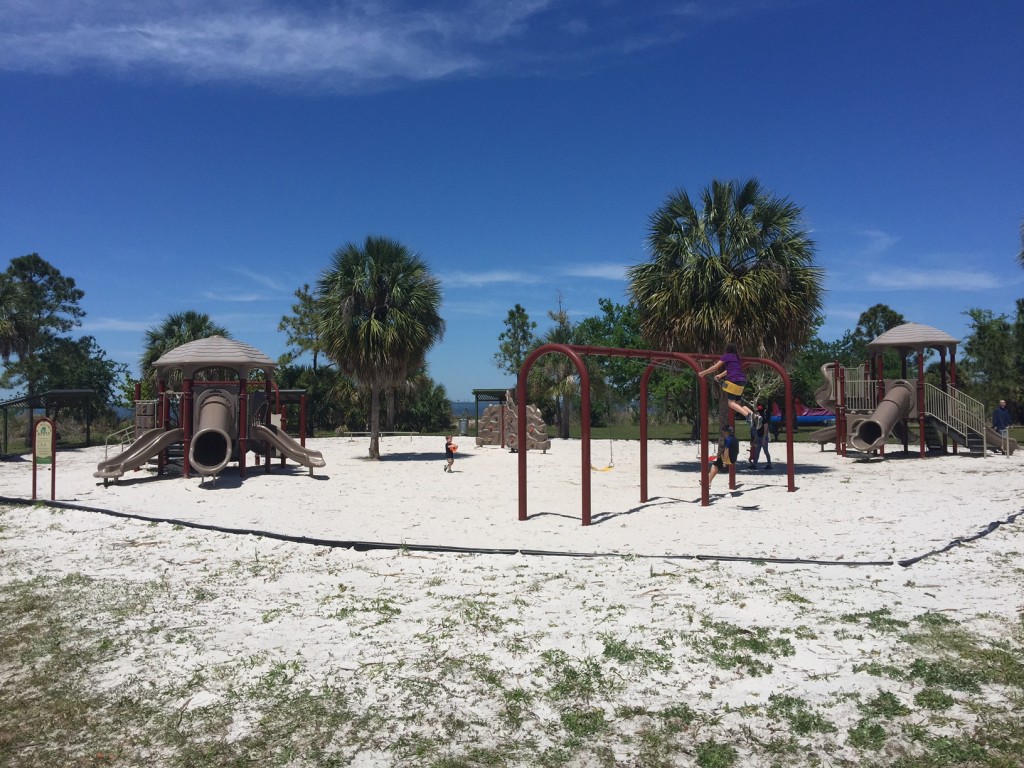 The Bad Stuff
Everybody likes to hear the bad stuff. Honestly, though, there isn't much to complain about.
As I said, if you're in a 50-amp rig, make sure you have your 30-amp adapter and you won't be able to run everything. Also, no sewer hookups mean you'll need to watch what goes down the drain, or have yourself a portable dump tank.
Lastly, definitely be aware that there are bugs. This park is fairly well known for the "no see ums", which bite the crap out of you while you can barely see them. This is just one of those facts of nature when you're sitting right next to the mangroves. It is worse in the summer months, especially in low-wind conditions.
To be prepared for the bugs, I'd recommend:
Bug spray
1 or 2 portable fans you can run outside (breeze helps keep them off you)
Potentially an outside portable shelter
If the weather is a little cooler or it is breezy out, you probably won't even notice.
Lastly, this park does not accept reservations. It is completely first come first serve. What I usually do is call ahead and just ask them how full the campground is. They'll tell you, then you can judge whether it'll be open when you get there.
In the winter months when the snowbirds are down in Florida, EG Simmons can get pretty full. Us locals basically write the place off. Come around March, however, it begins to open up again. Also, EG is sometimes used as an alternative to Fort DeSoto Park. When people need to vacate Ft. DeSoto for a bit so as to renew a reservation, they'll come to EG. The environment is similar.
The Good Stuff
Florida camping next to the water at only $24 per night.
'Nuf said. 🙂