Our Awning Got Destroyed By A Freak Storm!
We're Floridians. We're no strangers to afternoon storms in the summer.
But, this one came on strong, instantly, and HARD.
And it destroyed my awning.
Well, not completely destroyed it. The hardware is OK. But the fabric was ripped in half.
Here's how it went down…
Beautiful Sunny Day At The Pool. Until….
That's the funning thing about it. We were hanging out at the pool at Crossing Creeks RV Resort in Blairsville, GA. Bright sunny day. Some clouds in the sky, but nothing remotely alarming.
Then, the wind started picking up pretty quickly. The trees began moving around as some gusts came through. We were still sitting at the pool wondering if perhaps we should get out or not. It certainly wasn't obvious at all what was about to happen.
We hung around awhile longer. We made the call to clean up just in case it began to rain.
On our way walking back to the rig, it began to rain. The wind still wasn't that big a deal, but it was taunting us.
As we got back to the rig, it was a little windy. I sat there and pondered whether to bring in the awning or not. Stupidly, I decided to try to wait it out. See, we had a bunch of stuff under the awning, including a few electric items. I rather expected the storm to drop a little rain and be gone – like it usually does. And I was trying to avoid the headache of moving all our stuff back inside because retracting the awning meant everything would get wet.
So, I'm outside watching it.
Then, the wind begins to pick up rather quickly.
Then, it picks up even more. It seems like it is coming from the driver side of the rig, so I'm hoping the awning will ride it out since we're downwind.
Then the wind goes into full-on crazy storm mode. The rain is coming in sideways. It is hailing. Hail is pounding the rig and my CR-V, but it didn't look big enough to do any damage.
The awning begins to shake up and down.
I'm thinking… "oh CRAP!"
I hang onto the awning with both arms, trying to steady it as the wind funnels around the rig like a hurricane.
Of course, my sitting there holding the awning accomplished precisely NOTHING. My grip is no match for mother nature.
The awning rocks in the wind… until the cloth rips in half. The awning support arm comes apart and the whole thing drops to the ground while I'm standing right under it – in a full on storm.
My wife and kids are inside watching. My daughter is… freaking out. Thinks the RV is about to tip over or something.
I tell my wife we need to get things inside. So, while the rain and wind are howling, I begin shoveling stuff into the entry door. A toaster oven. Our Vitamix blender. Some other items.
No time to bring stuff in cleanly. I basically throw it in.
Then, I go inside.
And I'm thinking… "Sh*t!".
She Recorded A Video Just After The Awning Failed…
Yes, my wife recorded a quick video with her iPhone right after the awning succumbed.
[responsive_video type='youtube' hide_related='0′ hide_logo='0′ hide_controls='0′ hide_title='0′ hide_fullscreen='0′ autoplay='0′]https://www.youtube.com/watch?v=NSlIkCsxIQk[/responsive_video]
Our Saving Grace…
There were 3 other rigs in this campground that got their awnings screwed up. One of them was an electric box awning and the hardware just got mangled. The next morning, he had to get it CUT OFF the rig so that he could leave the next day. He will need to buy an entirely new awning.
The campground has 2 trees downed. One completely… the other had a major branch broken off and they elected to cut much of it down (likely for safety reasons).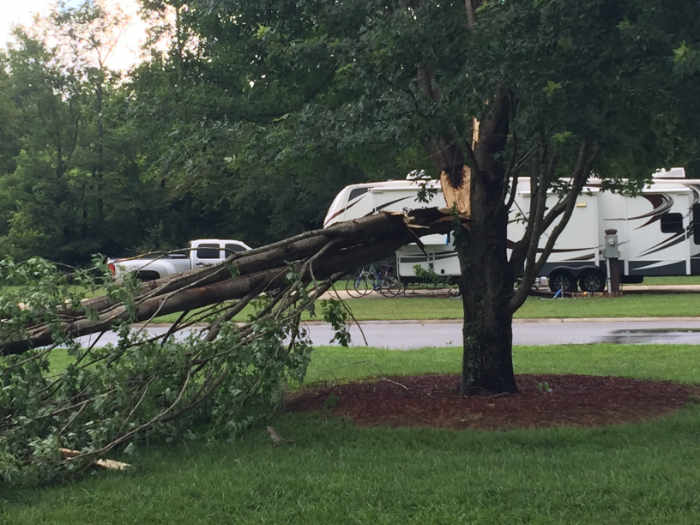 It was cute, actually. After the storm, people were walking around comparing notes. People walking around talking about the storm. A bunch of golf carts making the rounds. 😉
We were kinda famous in this place since we were one of the rigs with visual damage. People were asking if we were OK. The campground manager even called us on our cell to make sure all  was well.
As of this writing, we seem to have made out OK.
Our hardware was fine. I mean, one of the support arms came undone and fell apart, but it can be put back. Nothing was bent.
Plus, the fabric ripped in half along a prior seam – almost in a perfect line. Here's a picture of the cloth laid out the next day…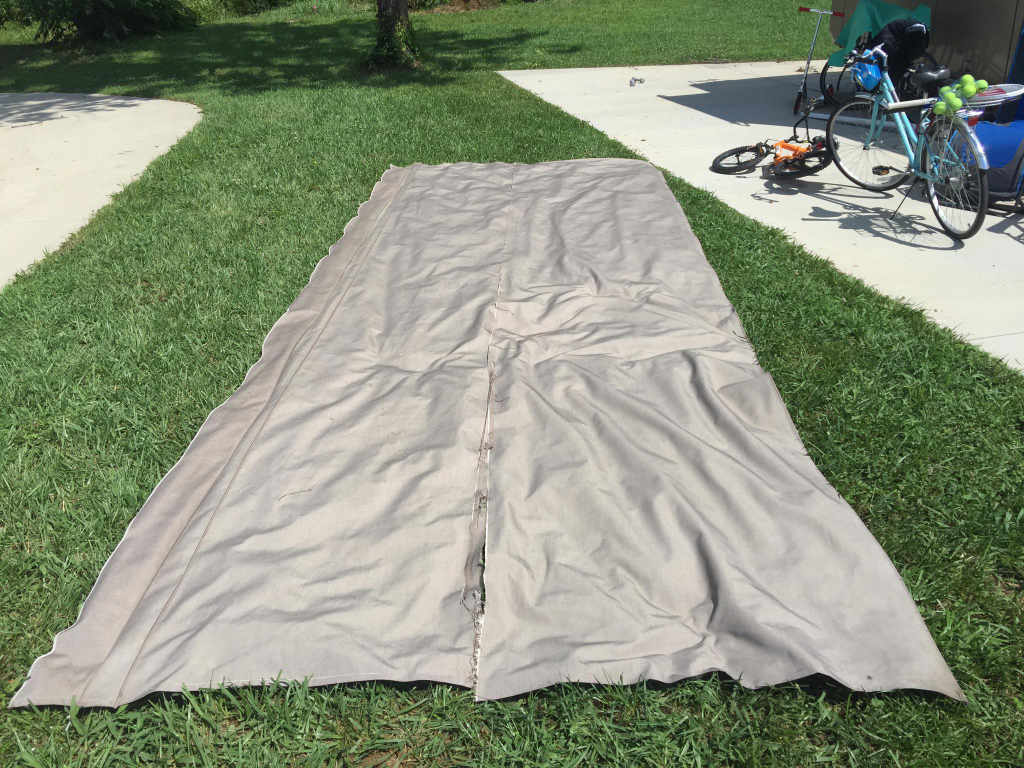 We had the local mobile RV guy take everything down and get us a quote for the awning fabric.
$800. Our awning is made by Carefree of Colorado (don't get me started…. there's nothing "care free" about these things)… and $800 is what is charged for this fabric. We had their polyweave vinyl fabric.
Plus, because we have the AlumaGuard on our awning, that meant the fabric was 11-inches shorter than stock. This means they would have to "customize" our fabric to the shorter length and that would take…. 2 weeks.
So, $800 and 2 weeks of sitting in this campground. Which admittedly is a VERY nice campground, but still…. 2 more weeks sitting in one place wasn't what I had in mind at all.
But, then my wife had a bright idea…
Seeing as the rip was a clean rip (almost), we could seam it back together again! Fix the fabric and then have it remounted to the hardware and be done with it.
So, after a bit of research, we ordered a yard of the Linen Tweed fabric made by Sunbrella. We ordered it from SailRite.com, along with a bunch of polyester V-69 thread on a spool. My wife brought her sewing machine with us. Of all things!
So, the plan is to reseam the fabric together. Then, run a strip of fabric over the rip and sew it on both ends. When done, we will have 3 sewn bonds of the fabric holding it together. I'll need to have my wife follow up with another blog post on how she did it.
If it works as planned, of course. 😉