Flaming Arrow Campground, in Cherokee, North Carolina [REVIEW]
After we left Blairsville and the Crossing Creeks RV Report, we traveled north toward Cherokee, NC. There are quite a few campgrounds up in this area, but we went ahead and booked the Flaming Arrow Campground.
Honestly, we didn't book it for any particular reason. We had called many others. Some didn't have room. The Flaming Arrow picked up the phone, had room, had a nice space for us… so we took it. 🙂
And we were not disappointed.
Having just come from Crossing Creeks, we were ready for some trees. I mean, Crossing Creeks is a gorgeous RV report, but the sites are all out in the open. We were ready to be covered in trees! And Flaming Arrow provides. Joni (the owner) set us up on a site up the hill a bit and under a lot of tree cover.
The site is quite nice. Full hookups. Picnic table. Fire ring. Even a little concrete pad. We stayed in site B9.
The campground has a nice clean pool. A small playground for the kids. A basketball net and a ping pong table. The showers and bathrooms are clean, although we didn't use them. After all, full hookups means you can just shower in the RV.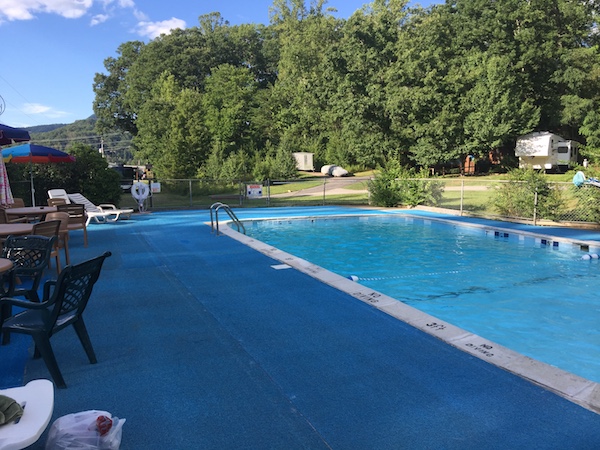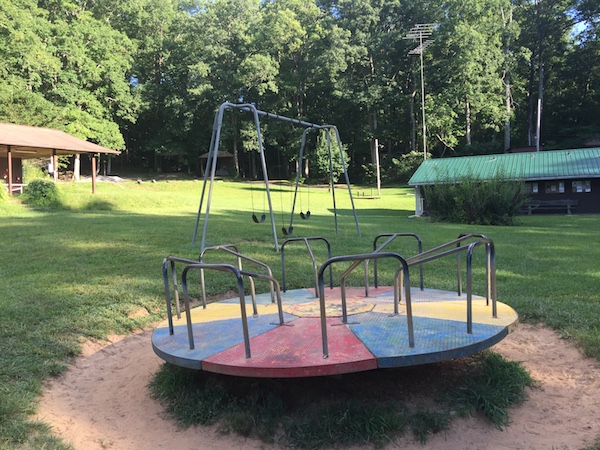 Having a campfire here makes total sense, too. Out in the open sun at Crossing Creeks, it just felt weird having a fire when it was totally light outside. But, even though it gets dark at the same time at the Flaming Arrow, all the shade gives it that more traditional relaxed (and darker) vibe. Plus, you can buy firewood bundles for only $3.50… which is quite cheap.
The location of the Flaming Arrow Campground is quite nice. It is just a few miles from Cherokee and about 5 miles from the southern entrance of Smoky Mountains National Park. There is lots to do in the area.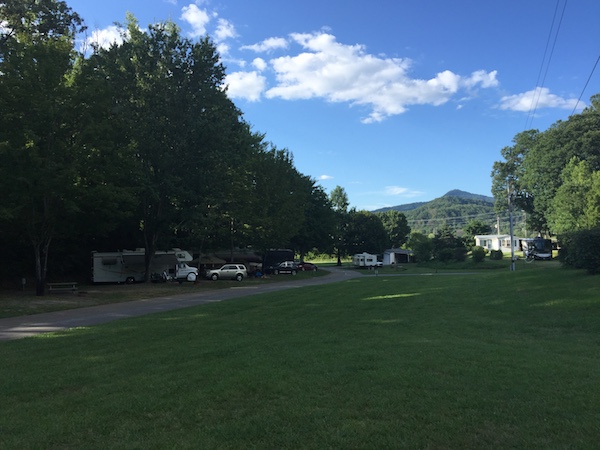 The campground is fairly big-rig friendly. We have a 36 footer. It felt a little tight getting in, but it was doable and we have a tow vehicle on the back. When you follow the arrows in for checkout, you'd likely want to disconnect your toad before going to your site (like we did). The hills make disconnection a bit interesting, but if you pull up so that the toad is rolling downhill, you can do it. Just place it in park so it won't roll into your rig. 🙂
Overall, we really liked the place. Joni was nice as can be and took the time to tell us about things to do in the area.
The only complaint we had was some of the bugs. They don't bite, but you'll find yourself swatting some of them away. Keep in mind we were there in the summer. They're not bad at all and it is no fault of the campground at all.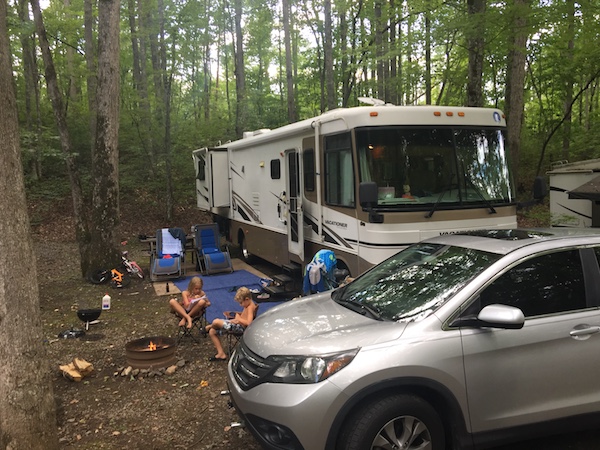 All in all, the Flaming Arrow Campground is a nice, family-friendly place to stay when visiting Cherokee and the Smoky Mountains. It has a great location, great facilities… and for us, it was a welcome change from Blairville because we had so many trees over our site providing natural shade.
We'd definitely return. My wife has already mentioned the idea. 🙂
In fact, we ended up extending our stay 2 nights longer than we originally planned. But, alas, Tuesday morning I had an appointment with a local mechanic to address some exhaust noise on our engine. So, we had to leave. 🙂