The Birth of RVFT – And Why I'm Here
I sit here – in my office in Florida. Beautiful weather out today. And I take a little hiatus from my usual work to set up a blog.
Happily RV
It has been a VERY long time since I've started up a blog from scratch. I can't remember the last time I looked at that "Hello World" post that WordPress puts there and thought, "What do I write for my first post?"
See, I'm no stranger to blogging. Been doing it since 1998, in fact. Been making my living at it almost the entire time. I started up a blog for computers and technology in 1998, built that blog into a full-time business. In 2008, I started up a new blog where I would blog about blogging (the irony is thick, I know). So, I had two blogs.
Now, mind you, when I start a blog, I usually go big. My tech blog eventually reached about 300,000 people per month and was generating over six figures income per year. I sold that blog in 2015, and today my second site (now called Blog Marketing Academy) is my main focus. While BMA doesn't get the traffic my tech site used to, it is still a respectable six figure business on its own.
But, I'm not here to talk about that. I AM here to answer the question…
Why start a new one? Why am I starting Happily RV?
Two words: FOR FUN.
While I usually only bother with blogs for business purposes, this blog is different. What it ultimately turns into, I don't know.
But, this is a passion project.
I simply love RV traveling. Going camping ranks right up at there at the top of the list of my favorite things to do.
I grew up around RVs. My family started out with an old 19-foot Tioga, class C. It was the kind of RV you'd look at today and wonder how you could possibly fit a family of 4 in it. Yet, we did. In fact, we never even considered it to be small. And we traveled all over the place in that thing.
The family eventually upgraded. If my memory serves, we went to an old Winnebago Journey, then to a Pace Arrow. The whole time, my grandfather was a huge RVer, having owned several Fleetwood Bounders. And most of the rest of my extended family had one as well. My uncle has owned a ton of different rigs over the years and actually buys and sells them.
So, my childhood involved a lot of RV camping. I'm no stranger to them.
As I got older, it began to fade. Life got busier. More complicated. I went to college, started my own business, bought a house, got married, had 2 kids. This whole time… no RV.
Until 2013. My wife and I purchased our first motorhome. The first time I was able to go camping in a motorhome since I was much younger, only this time, I owned it personally.
The rig wasn't fancy, but we were able to pay cash for it and it was a good deal. 1996 Coachman Santara. One of the class A models.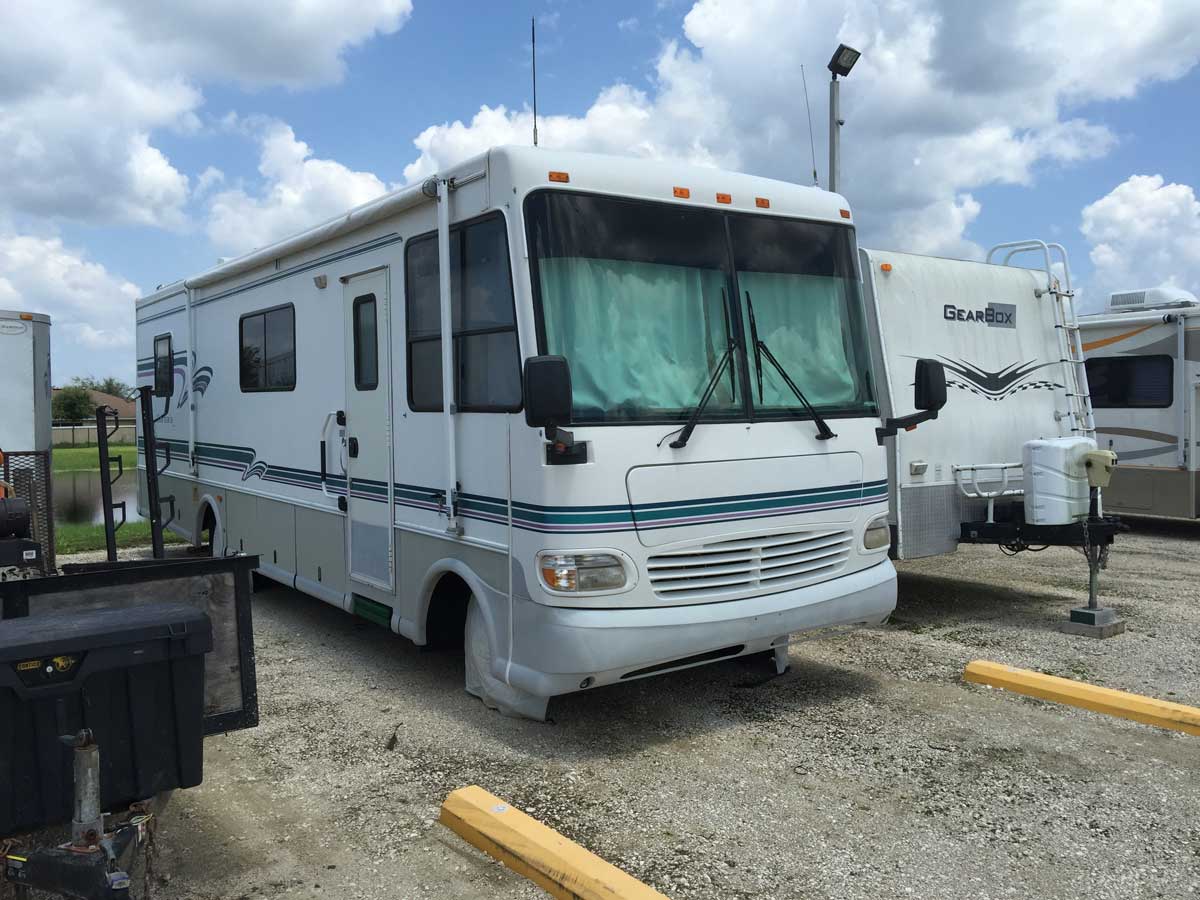 We traveled all over in that Coachman – and I really learned alot about RV maintenance.
The first RV always holds a special place. I'm not one to get emotionally attached to a vehicle, but I really did like that thing. While we did a lot of local camping around Florida with it, we already visited a number of places along the east coast, everywhere from Georgia and South Carolina… all the way up to Maine.
As my brother has joked, we camp like its our job. 🙂
But, those longer trips always ended up making us more aware of the rig's shortcomings. It was a great motorhome, but it had no slides. With a family of 4, and 2 kids who tend to be quite high-energy and bring a lot of toys along for the ride, the lack of space was a real factor.
Definitely an ironic thought considering my first family traveled happily in a 19-footer. But, whatever. I'm spoiled, I guess. 😉
Plus, Coachman cut some corners in some places, especially in those older years. Lack of electrical outlets, lack of internal storage, switches and plugs in sometimes weird locations. Its just little conveniences. RV design has improved as time goes on – ALOT.
So, I decided to upgrade. And in early 2016, just days after New Years, I threw down and bought a newer motorhome. Once again, I was able to pay cash for it (the way I'd recommend others do, too. Perhaps a post on that down the road.)
At the LazyDays in Tampa, we traded in the Coachman and picked up a 2002 Holiday Rambler Vacationer. 36-footer, 2 slides, Workhorse chassis with the Chevy 8.1. This thing is a HUGE improvement over the Coachman. The build quality ranks superior over Coachman (at least in those years of HR).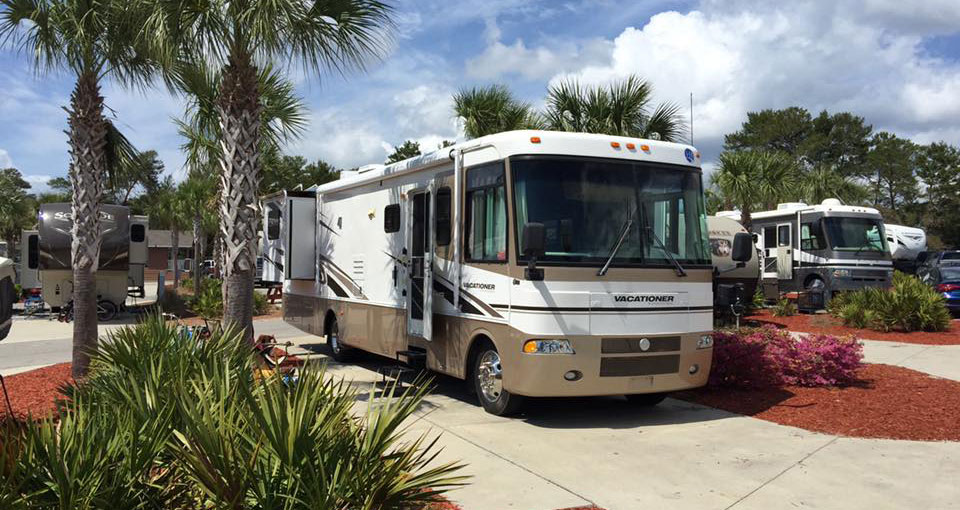 Being that we just bought it, we haven't done any huge trips yet. Been as far as the Florida panhandle area.
I know my wife sure does like it. 🙂 She tolerated the other RV. More like a means to an end for her. But, this one, she just enjoys the experience of camping more now versus it just being a place to sleep.
So, all this brings me back to Happily RV…
I started this site to give me a place to combine passions.
I enjoy blogging. I enjoy writing. And I enjoy RVs and camping.
Now, I can combine them.
Of course, doing what I do for a living, I don't intend for this site to be just a little personal blog I goof off with. I don't have big business intentions for this site, but that doesn't mean I don't want to make it useful for people, attract and audience and build a community.
Talking with others is always more fun that talking to myself. 😉
So, RVFT will be about our travels, yes. But I'm planning to also include "how to" information, RV news, and also bring some of the best stuff from a ton of existing RV sites forward. We'll see how it evolves.
My family and I are not full-timers. We work hard, but we like to play hard. In our case, that usually involves camping and traveling in the RV.
Now, this part of my life has a place to vent. 🙂 That place is RVFT – Happily RV. It was a domain my wife bought on a whim a year or so back, and I figured I'd do something cool with it.
And we'll see how things go from here! 🙂