Using The RV As A Mobile Office (Even When You're Not A Full-Timer)
If you go out and search Google for using the RV as a mobile office, you'll find a lot of different setups. But, one thing is most common…
Most of them are full-timers.
Obviously, when you LIVE in your RV, you're going to have a mobile office. And certainly, there are some very creative RV office setups I've seen. Some really cool ones. Things I wish I could do to mine, in fact, but since I sleep 4 of us in here I just don't have the room. 🙂
What if you're NOT a full-timer, though?
I have worked for myself pretty much my whole career. And while we use our RV more than most, we are not full-timers. I happily have a home base in Florida and I have a nice home office that I really like.
But, sometimes you just want a change of scenery. 🙂
So, every couple months or so, I take the rig out by myself. Malika is cool enough to let me do that. 😉 I pack my computer, a couple days worth of food and a couple changes of clothes… and I head out to a local campground.
It is work time without the distractions. A change of scenery. An opportunity to take the rig out and use it. And a little bit of "me time" to boot. 🙂
As I write this very blog post, I'm sitting at the dinette in my motorhome. I'm sitting in site #16 at Lithia Springs park in Valrico, FL.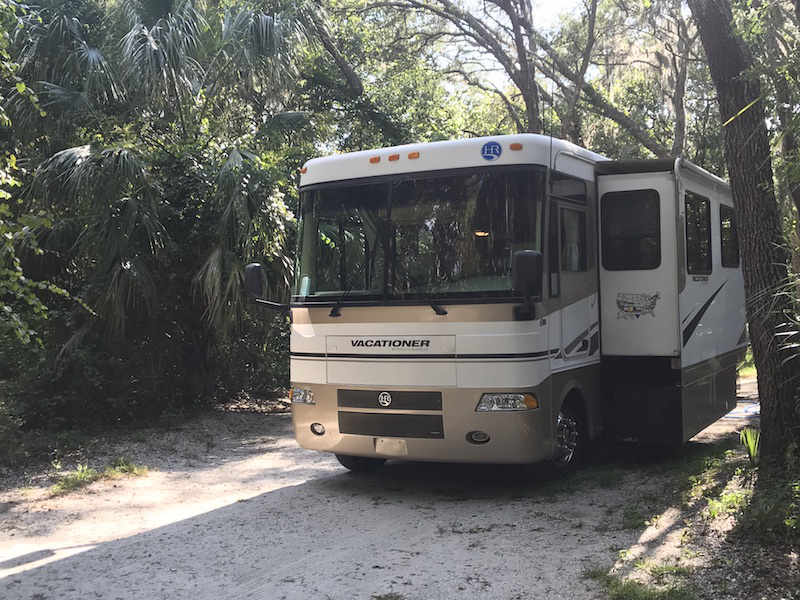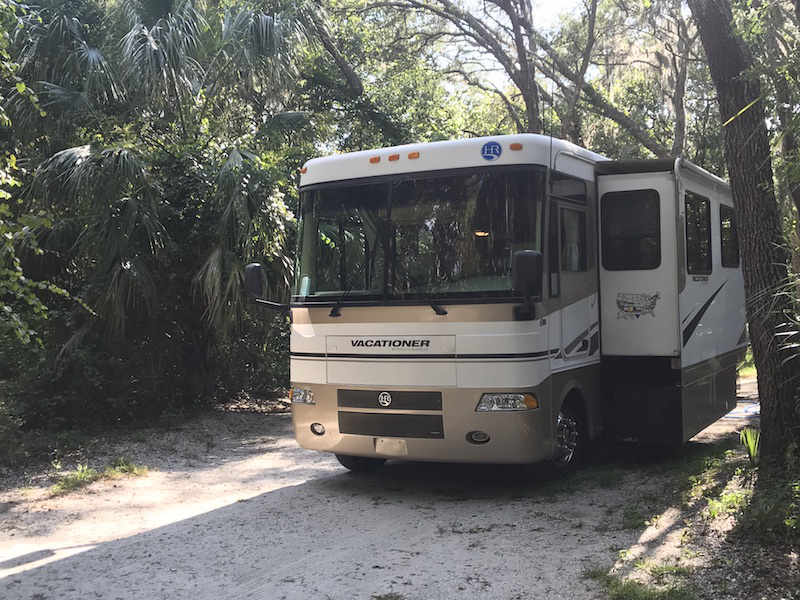 And while my mobile office isn't going to be some awesome "hack" like some of the others, it works: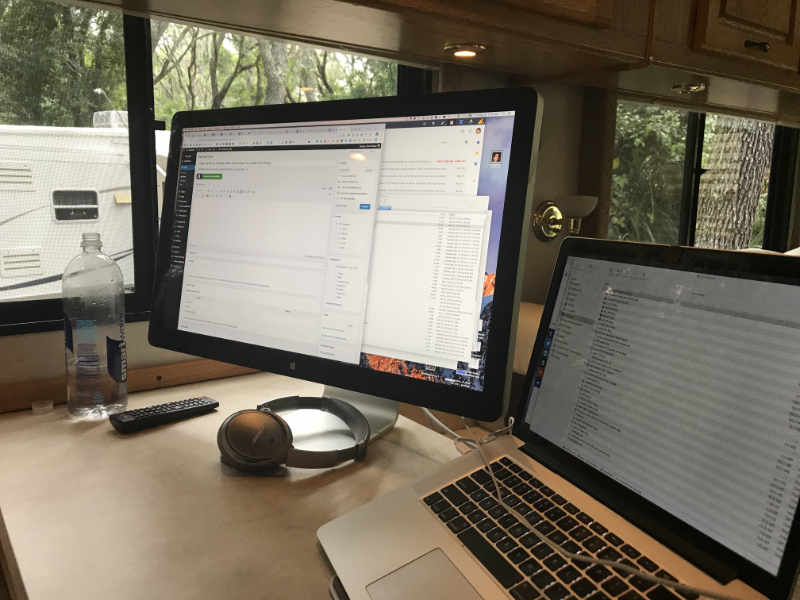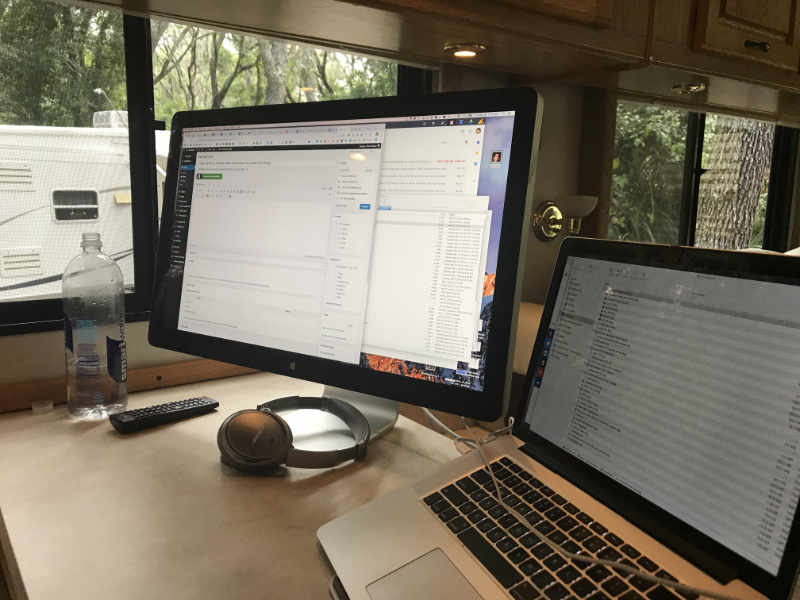 It is just my Macbook Pro and one of my 2 Apple Thunderbolt monitors. I always bring my Bose QC35 headphones so I can jam out. And, for the internet connection, I just tether to my iPhone.
In the past, I even recorded videos in here. I have a portable USB mic I can use. I can even put a camera on a tripod if I'm so inclined.
When I get tired of working, I will sit outside for awhile and maybe have a cigar. I'll go for a nice walk and enjoy my location. And for downtime, I might catch up on some Netflix.
The point is…
Even as a "some timer", it is nice to sometimes use the RV as my office. It is like my second office. It just happens to have wheels on it. And I can take it out when I don't feel like being in the first office. 🙂
If you own a motorhome, you might as well use it.
I haven't done it yet, but I've even thought about occasionally using the rig as an outside office even when I'm not out camping in it. Just right there in the storage facility. Hell, it is under cover and I've got electric. I could run the AC, keep some food in the fridge and make a pretty cool second office inside the motorhome.
It's not a bad idea, actually. We homeshool the kids, so you can imagine that my house is pretty much always crazy land. If it wasn't for those Bose headphones and their noise cancellation, I'd find it difficult to concentrate at home sometimes. The HOA means I can't keep the rig in my yard, but we store it only about 3 miles from home. So, it could serve as an outside office in times of need. 😉
Hhhhmmm…..