We'll Be At The RV Entrepreneur Summit In February
While we don't full-time at this point, we do spend far more time in our RV than most people our age.
We're free to do that because of the nature of my work. I have been an online entrepreneur for 19 years now.
So, when we're in these campgrounds in the middle of a work week, we're usually surrounded by older retirees. The younger families show up around the weekends and usually leave on Sundays so they can return to work.
There is a growing community of younger RVers who are making their money in non-traditional ways. Usually online.
The problem is that while the community is growing, it is still super small in the scheme of things. I barely ever meet up with them anywhere. If we happened to cross paths in some campground somewhere, I'd never know most likely.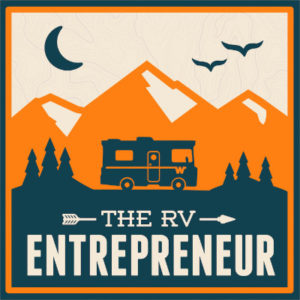 Early in 2016, I was a guest on Heath Padgett's RV Entrepreneur podcast – Episode #16. Since then, I've kept up with what he and his wife (Alyssa) do with their blog. Early in 2017, they held their first RV Entrepreneur Summit.
I couldn't make it at the time, but I thought "What a cool idea!"
I mean, as an online business guy myself, I realize what a great branding and business thing this is for them. But, just as another RV enthusiast who also runs an online business, I find it to be just an awesome idea.
It's like combining two of my biggest passions into one: business and camping. 🙂
After their first event, there seemed to be some rumor of the possibility of holding the next one in Florida. Since that's our home base, I decided I'd be an idiot not to attend the next one.
But alas, it was not to be in Florida. They've decided to hold it once again in Fredericksburg, Texas for 2018.
But… WHATEVER!
That's the beauty of a motorhome. It has an engine. It travels. So…
I'll just stick with the original plan. We'll be going and I'll just drive to Texas.
So, we're less than 2 weeks away from hopping in the RV and heading west to Texas.
It'll be great to connect with a bunch of people with similar interests.
Plus, it'll be fun to head out to Texas. I've been there many times, but those trips were always functional. I was in and out and not able to spend any real time there. Going with the RV, we'll be in no hurry.
We're also planning to spend a day in New Orleans as well as a weekend in San Antonio before arriving in Fredericksburg. While in San Antonio, we're planning to stop into the showroom for Shop4Seats to view their new RV furniture and, yes, do a likely upgrade to the rig (more on that soon).
There's a bit of overlap for us since we're already planning a trip out west in the summer. We would have visited Texas then. But, we'll just plow through there to head further out. We're planning to head into California.
I've got some business acquaintances in the Austin area so perhaps I'll stop by and bug 'em. 😉 We'll see.