Our Agenda For Our Summer Trip 2018
We are not full-timers. However, we definitely use our motorhome way more than most.
A lot of young families who own a motorhome end up keeping it in storage most of the time. They might use it on some weekends and they might make a longer trip for a couple weeks in the summer.
I run my own online business and can work from anywhere. My wife is now homeschooling the kids. Our life is actually set up in such a way where we could full-time if we wanted to. But, as much as we enjoy it, we're not ready to take that plunge. Part of the reason I enjoy the RV so much is the dichotomy from our house. I like the best of both worlds.
So, we do end up using our motorhome quite alot. If you add it all up, the rig is in use 3-4 months out of every year.
Our big trip of the year is usually in the summer. Technically, it could now be any time of year, but I guess we're still used to the kids being in school. 🙂 We have only been homeschooling for a year now.
Since we bought our first motorhome (the 1996 Coachman Santara), our summer trips have evolved in this order.
Up to the mountains, Mammoth Cave, over to Philadelphia, then back home down the coast (Summer 2014)
Up the eastern coast as far north as Portland, ME. Then back home again. (Summer 2015)
Up the eastern coast, up into upstate New York, Montreal, Quebec City, then back into Maine again and home to Florida. (Summer 2016)
Southeast, in the Smokey Mountains area. Decided to stay closer, drive less, and spend more time in each place. (Summer 2017)
Which brings us to this year. 2018.
This year, instead of going north out of Florida, we're going WEST.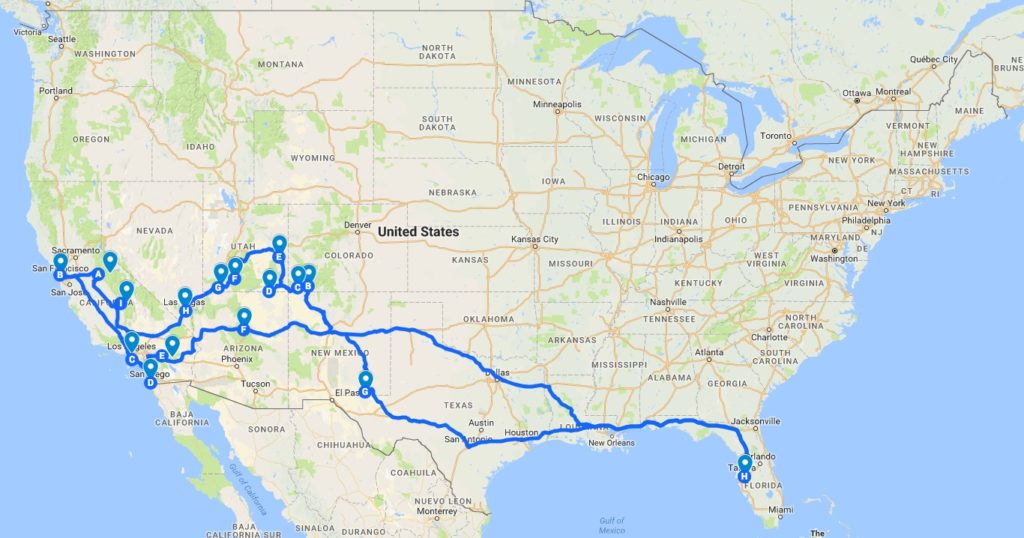 One of our reasons for this is because my original family (my mom, my dad and his wife, my brother and his wife, and us) decided to spend a week together in a rental house in Flagstaff, AZ this summer. Two years back, we all did that in Tortola, British Virgin Islands. This year, it'll be Flagstaff.
So, we figured…
We could fly out there and do the week-long round trip and then use the RV to do something closer to home. Or…
We couple it together and drive the motorhome out to Flagstaff! And, of course, just make our summer trip out in that area of the country. So, that's our plan.
It'll be our longest trip so far in the rig. I'm estimating I'll be putting close to 7,000 miles on the motorhome.
Here's the plan…
Leave Florida and head to Durango, CO. I'm giving myself about 10 days to get out there, so we won't be in a major rush.
From Durango, we'll hop over to Mesa Verde. Check out Canyons of the Ancients while we're there.
We'll then pop down to Monument Valley. Just your classic western scene there.
Head up to Arches National Park. Check out Canyonlands while we're there.
Pop over to Bryce Canyon area.
Visit Zion National Park.
Head on into Las Vegas.
Go to Sequoia National Park.
Go to Yosemite.
Pop west over to San Francisco. My wife really wants to go.
Head on down to Los Angeles. She wants to see Hollywood. 🙂 We'll do some other stuff while there.
San Diego. Been there several times on business but never branched out from the hotel much. This will be a good chance to really see the place.
Start heading toward Flagstaff, but first heading to Joshua Tree National Park.
From Joshua Tree, go to Flagstaff. There we'll park the rig somewhere and shut it down for a week while we stay with my family in the house. After the week is over, my kids are flying home with my dad to spend some time with him in Florida.
My wife and I fly solo. We'll crank the rig back up, leave Flagstaff and head toward Carlsbad Caverns. After visiting Mammoth Cave, I've always wanted to see Carlsbad.
Then, my wife and I solo back to Florida from Carlsbad. We'll more or less just be in "travel mode" all the way back, but we may stop somewhere. You never know. 🙂
So, that's the plan.
All in all, we'll be gone for about 2.5 months.
A few little logistical considerations on the trip path:
We considered visiting Death Valley, but my better sense took over. We're going in the summer. It is going to be brutally hot. There's a reason some RV rental companies specifically forbid you from taking their rigs to Death Valley, so I'm not going to be taking mine. Perhaps some other time in the winter.
I also considered going to Yosemite direct from Zion by cutting through Nevada and crossing the Sierra Nevada mountains via Tioga Pass. I knew it is some tough mountain driving, but I've done that before. Thing is, the more research I did, the more I decided I would probably be royally hating life trying to take my massive rig over the mountains like that. So, I decided to go south and around the end of the chain. Hence, our little pitstop in Las Vegas and Sequoia.
I considered leaving San Francisco for another time, but my wife wouldn't have any part of it! My thought was just that I know California is already going to be expensive to travel in. And San Francisco is the worst. Most expensive city in the country. And I was going to be putting a lot of extra miles on the rig, burning gas sure to cost over $4/gallon, just to get to San Francisco. But, whatever. It is a beautiful city, so I'll suck it up and we'll mark it off the list for her. 🙂
We were planning to go to Big Sur for a bit after San Francisco, but so far it is looking like we have no camping options. They're either fully booked or they can't fit a motorhome of our size. So, we'll play that time slot by ear. Maybe something will pop up, or we'll just take our time getting to LA.
Los Angeles. Been there. If I had my way, I'd avoid it like the plague. But, my wife (again) really wants to see Hollywood. So, it is what it is.
San Diego is more my speed, so looking forward to checking it out. 🙂
In Flagstaff, we're going to find a place to store the rig. Doesn't need to be a campground since we won't be sleeping in it.
There is SOO much to see and do out in the west. I know we're only going to be doing a fraction of it. That's just the way it is.
But, I'm sure we'll be heading back out again at some point. Probably not next summer. We'll probably stay closer. But, we will head out again and cross some more places off the to-do list. 🙂