Replacing Our Furniture – Shop4Seats Review
It is a rare motorhome owner, most likely, that seeks to replace their furniture. After all, it isn't a cheap thing to do and the financial ROI simply isn't there.
When it comes to used motorhomes and trailers, almost all of them have the exact same furniture they were built with. But, the ones built in the early 2000's or earlier often come with some pretty funky patterns. 😉 And no matter what else you may do to the interior, it will still look dated.
You can reupholster your existing furniture. This is certainly an option if you have the skills or are willing to pay somebody to do it for you. Before too long, however, you would have to run that comparison cost on whether reupholstering will give you what you want versus just buying new.
After reflooring our 2002 Holiday Rambler Vacationer, it looked much better on the inside. However, we knew that it would still look pretty dated as long as we kept the old furniture.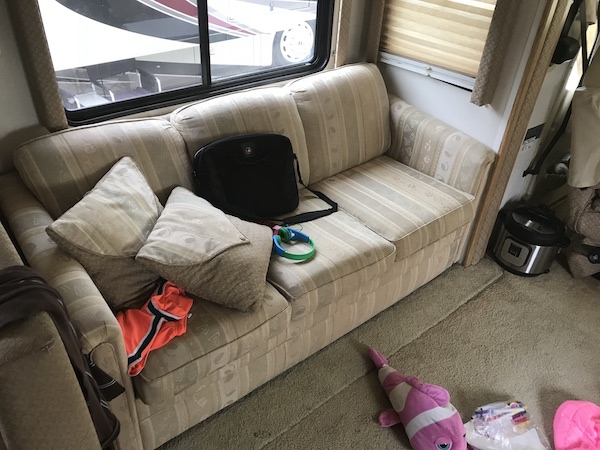 Not only that, our furniture had seen better days. The two captain's chairs were ripped up and we covered them with seat covers from Camping World.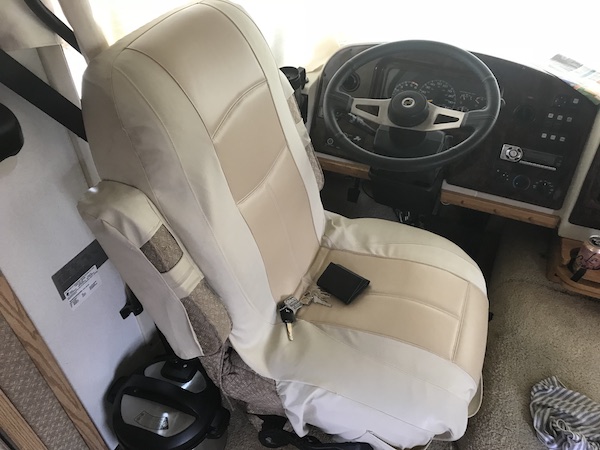 The dinette booth had obvious wear point, but no rips. The couch was in decent shape, however it had these funky stripes and just looked old. Not only that, it was a traditional sleeper sofa which took up quite a lot of space when my son sleeps in it. We preferred a jack-knife sofa that would allow us to walk around when the bed is in use.
Worth It To Buy New Furniture?
RV furniture isn't cheap. When you look into captain's chairs, you will most often come up with Flexsteel. That is what our rig had in it originally. Buying new Flexsteel chairs is quite expensive. A fabric-covered chair can easily run you $700-$800. If you prefer leather, you can easily drop over $1,000 on a single captain's chair.
The prices don't get much better when you're looking at buying new couches or booths.
If we only tried to solve the jack-knife sofa issue, I found you could pick up a basic one for perhaps the $600 range. Camping World even carries one made by Lippert Components (see here). The problem was that buying one single piece meant it would be visually completely different than everything else in the motorhome. None of the colors look right for our rig, and it would mismatch everything else.
So, if one is going to buy new furniture, I concluded that Shop4Seats was a pretty good deal. You could buy a whole package, pick the fabrics, have it built to order, and same money. For instance, the captain's chairs I bought were all leather and ran about $550 each. That's a significant savings off of buying new Flexsteel chairs.
One question begs to be asked, though…
Is it worth it to buy new furniture for an RV at all?
Well, to be clear, this isn't an investment you make for financial reasons. Motorhomes depreciate and new furniture isn't going to stop that. While new furniture might give the rig a slight bump when it comes to resale, there's simply no way we'll recoup the cost. It may help the rig sell faster, but we're not going to make the money back.
This was an investment into us. We use this motorhome alot. And I had set out to remodel the interior and make it look younger. It is something I take pride in. That's why I did it, and all the reason I needed.
We Visited Shop4Seats in Texas
Early on in planning out my remodeling, I did some looking around and came across Shop4Seats.com.
Shop4Seats will build furniture to your fabric specifications and the prices were quite reasonable when compared to buying a package from something like Flexsteel. Ultimately, I decided this was what I was going to do.
Shop4Seats builds their furniture in California, however they have a showroom just outside of San Antonio, Texas. We happened to be out in San Antonio in February for other reasons, so I decided this was the perfect time to see their furniture in person.
So, one morning, the family hopped in the car and we drove out to Cibilio, TX (outside of San Antonio) to visit Shop4Seats. We met up with Alec who I had been exchanging emails with beforehand.
The showroom is not large and much of it isn't dedicated to RVs. Shop4Seats also produces seats for vans, SUVs, trucks and more. Much of what was on display was meant for other kinds of vehicles.
But, out in the warehouse, they had several examples of their standard models of RV furniture. We checked it out and got some questions answered. We were then on our way.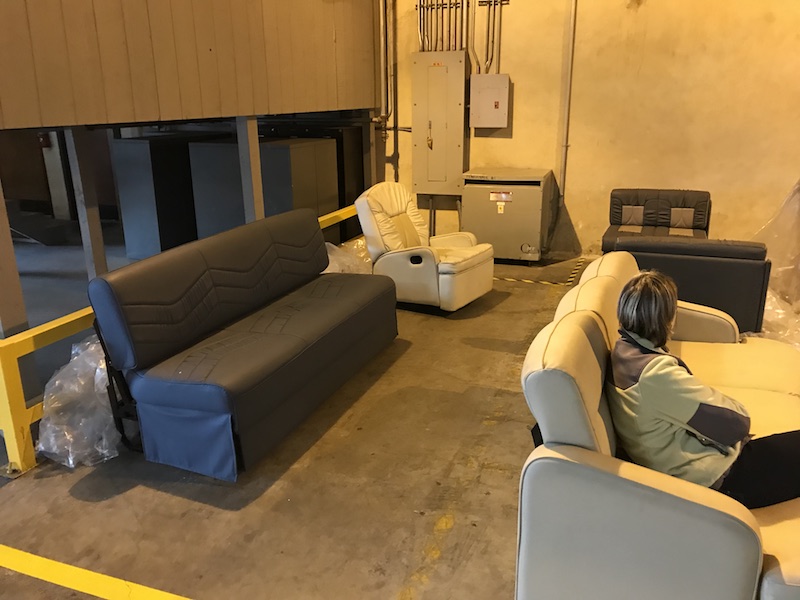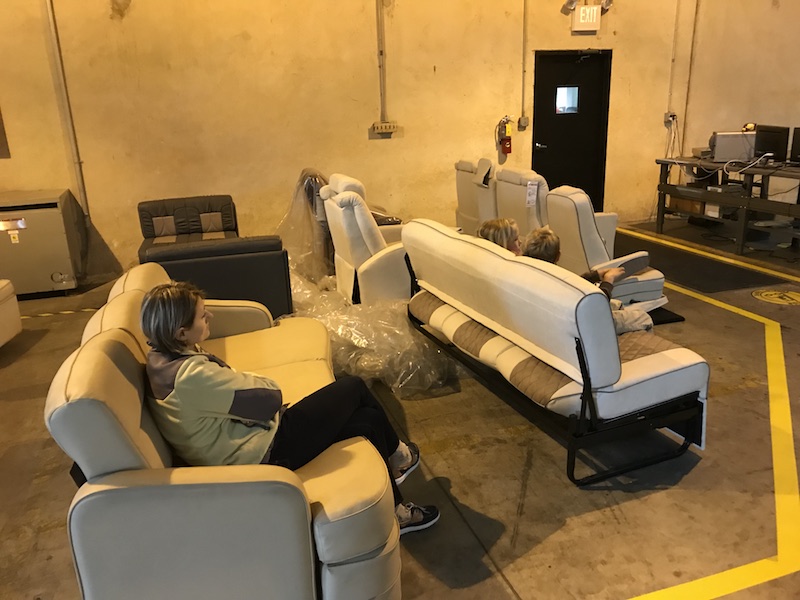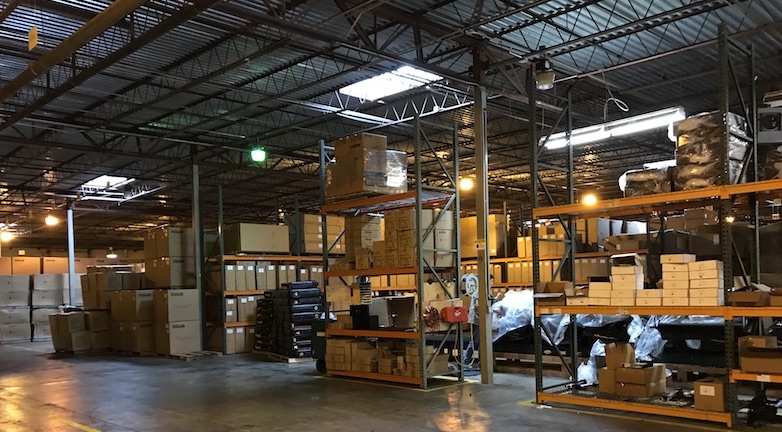 That was in February. In April, I decided to place my order.
I Placed My Order
What I ordered was:
2 De Leon captain's chairs.
1 Belmont Sofa Sleeper with the optional drawer
1 Livingston RV dinette booth
All of it was ordered using their Ultimate Leather with the Bisque color as the primary and the Decaf as the insert. We thought it would be a nice match with some of the colors already in the rig.
Shop4Seats has 2 kinds of leather. If you order their "Express Ship" furniture, you will get your furniture much faster. The leather, however, is this Chinese material which is nice, but has a cheaper feel to it in my opinion. The Ultimate Leather, however, feels like true leather. The tradeoff is that it takes longer to get your furniture.
We were in no hurry and the price was actually cheaper – so we went with the Ultimate Leather.
Placing an order like this without seeing it is definitely nerve-racking. We had the advantage of having seen a few samples in person out in Texas, but it still is a big order and it is hard to know. But, the lady who took the order was super friendly. I exchanged an almost obscene amount of email with Alec and he answered my every question.
The order was placed. Worked out to around $3,800 for everything. We were told their lead time would mean we wouldn't get the stuff until mid-June. So, I just went about my business and, well, refloored the RV. 🙂
After 6 Weeks, We Received And Installed The New Furniture
They were about a week late shipping the furniture to us. Come to find out they had had a few people in their California warehouse all quit at the same time and it had an impact on manufacturing speed. But, while it was a little frustrating that they were late, it didn't affect any of my timeline.
Once it was shipped via freight, I was sent tracking information and was able to watch it. I was told that once the shipment got to my local area, they would call me to make a delivery appointment.
They did and the truck arrived. 2 very large pallets wrapped in cardboard and cellophane wrap.
When the weekend came, it was time to switch out the furniture.
I removed the captain's chairs and kept the original bases. I installed the De Leon chairs in their place. At first, I actually installed it on the wrong side of the vehicle. When you look at the position of the seat adjustment levers, you can tell which seat is meant for which side of the vehicle.
The captain's chairs are shipped with only one arm rest attached. The other arm rest (or in my case, 2 of them) come in a separate bag. It is up to the customer to self-install the arm rest. Shop4Seats has a Youtube video to show you how to do it…
The instructions were easy, although it is definitely a bit of a mental challenge to make yourself cut a hole on purpose through your brand new chairs! 🙂 But, it is totally covered up by the arm rest once it is installed. When I cut the first hole, I was actually off by an inch or so. When you stick your finger in, you'll feel a circular hole where the shaft from the armrest clicks into. You line the little peg on the shaft up with the hole and you push it into place and rotate. All in all, a pretty quick thing to do even if you do have to trial and error a bit.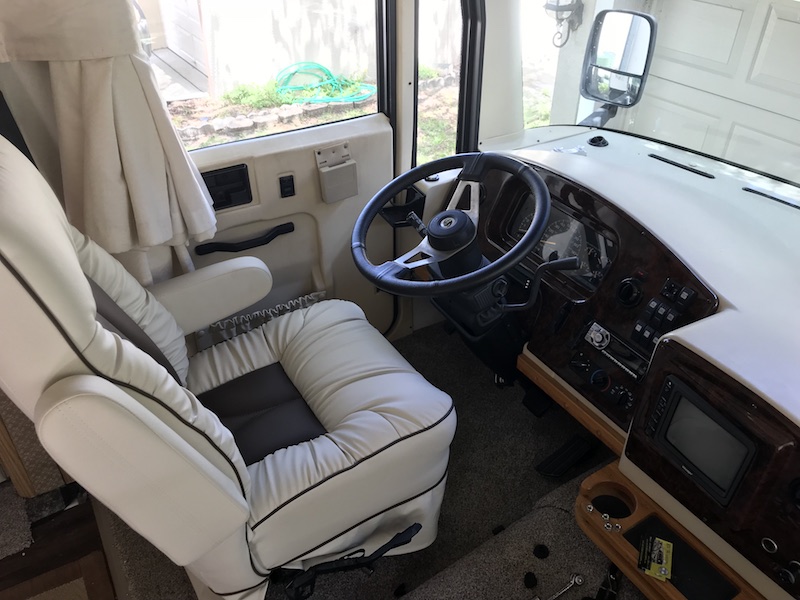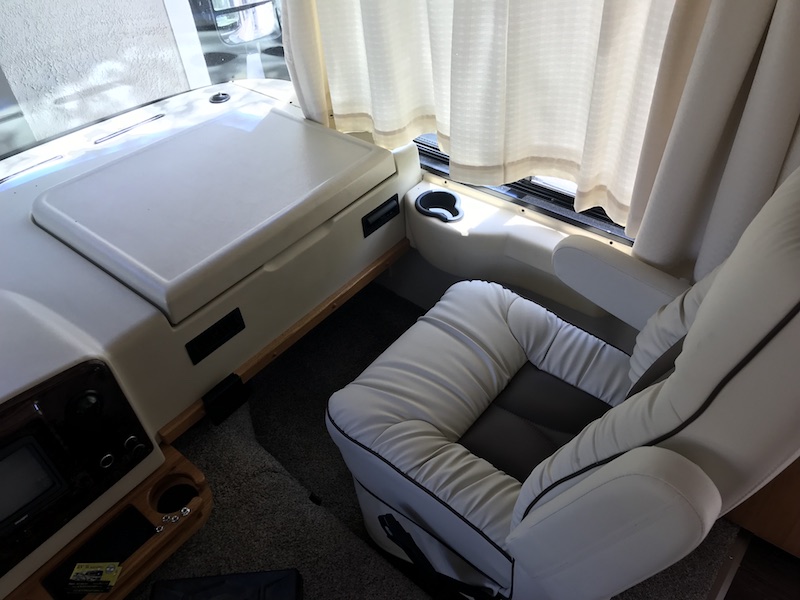 Installing the dinette booth was pretty easy. Even though the new booth comes with a new table top, we are electing (for now) to just keep the existing one in place. So, I just positioned the booths so that the table rests properly on the supports when it is down in "bed mode". I then secured both booths to the floor using screws.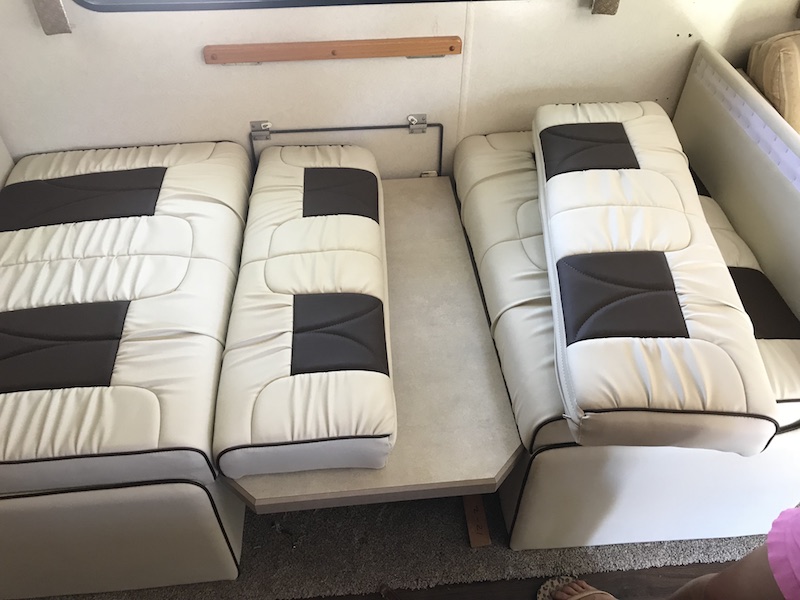 The couch was a bit more work. When they build these motorhomes, the furniture is installed often before the exterior is fully built. The factory doesn't have to worry about fitting anything in or out of the entry door. But, we do! And the factory couch wouldn't fit out the door.
So, I took it apart. The back came off, the sides came off, and we were able to carry the old couch right out of there.
The new couch went in pretty easily. It has some weight to it, but if you have a couple of guys it will slip in there. In my case, I just had my wife. 🙂 So, I devised a way to use my handtruck and a blanket to maneuver the couch to the entry door and then pull it up the stairs.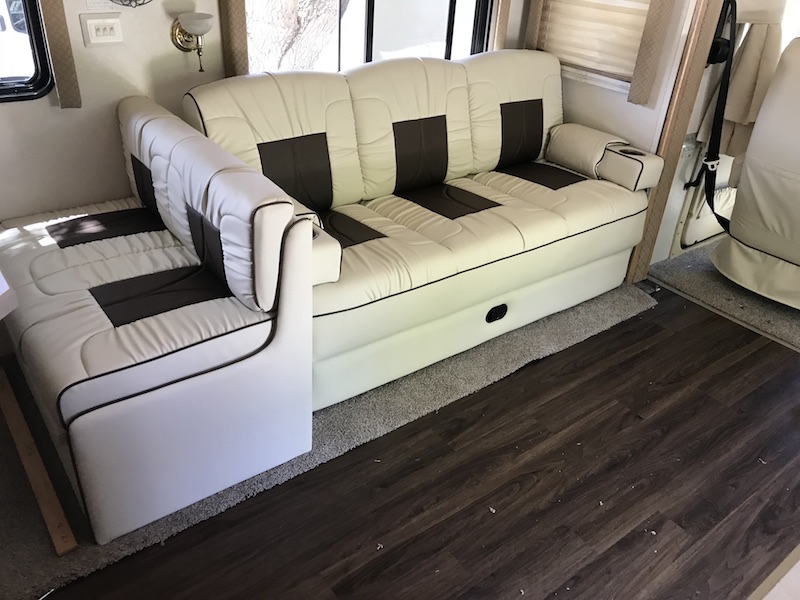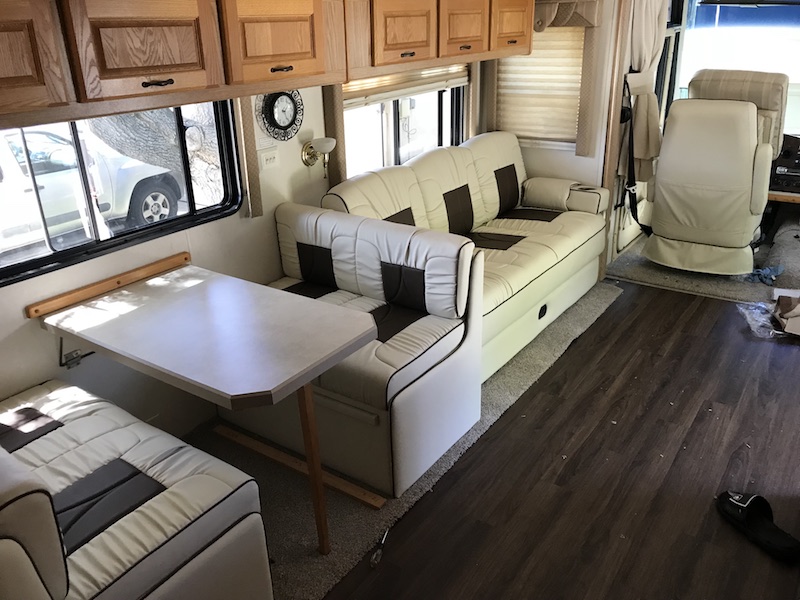 Overall, the quality of the furniture is pretty good. We don't yet know how well it will hold up over time because we just installed it.
My wife had a concern initially about the inserts not lining up properly, but after I got everything installed and was able to see everything, determined it simply wasn't a problem.
The furniture is comfortable and, more importantly, it looks nice. 🙂 I mean, between the new flooring and the new furniture, I think I've shaved 10 years off the perceived age of the rig.
What Happened To The Old Stuff?
Well, it's funny. We had pulled the old recliner out of the rig before our trip to Texas just to get more space. I listed it FOR FREE on Facebook Marketplace and…
Nothing.
That is literally the ONLY time I have ever listed anything online for free and not been barraged with requests. But, this recliner was apparently so freakin' ugly that nobody wanted it even for free. 😉
So, I was concerned about pulling all the old furniture out and how to part with it. It would not have been an upgrade for anybody. Moreover, it really would only work in a Class A motorhome.
When I pulled the stuff out of the rig, I just piled it into the garage. My wife later posted a few photos and listed all of it for free.
Well, she must have a magic touch because we did get interest. It wasn't overwhelming, but had some bites. We did have more interest in the 2 captain's chairs than anything else, so those went quickly. But, after a few days, we found our lucky guy who wanted to take all the rest of the stuff to use in an old rig he was apparently gutting and renovating. We gave it all to him for free and he hauled it off happily. 🙂
The Final Walkthrough
And, to finalize things, I simply HAD to take the rig out to a local campground to, you know, "test" the furniture. 😉 And I recorded a quick video showing the finished digs…