We're About To Go Into Travel Mode: Summer 2016 RV Trip Itinerary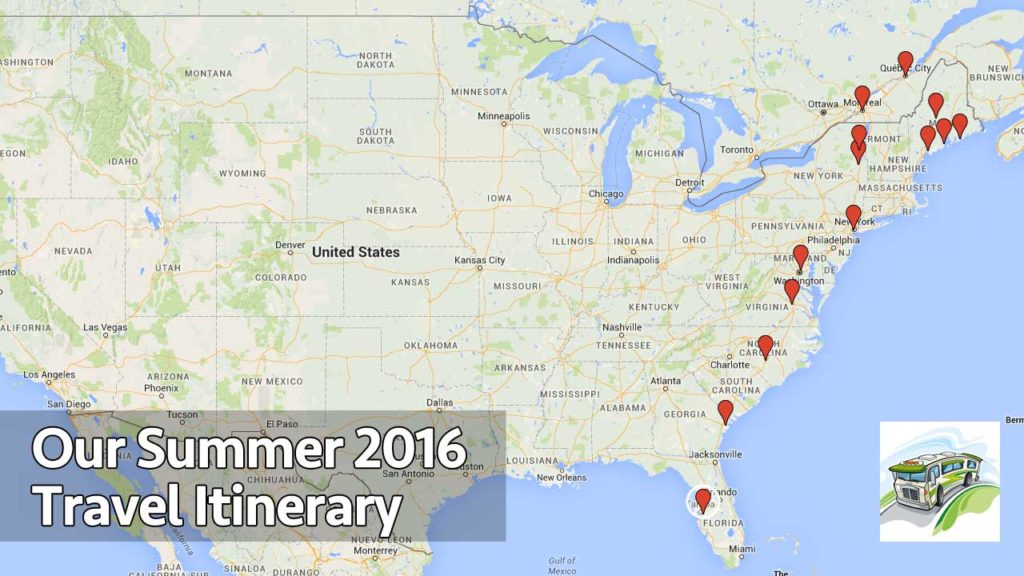 Every summer, we take an extended trip in the RV. And while it isn't necessarily the intention, we seem to make the trip longer every year.
When we bought our first RV in 2013 (the Coachman Santara), we took the first longer summer trip in 2014. That year, we went on a 3-week trip which took us to:
Stone Mountain, GA
Fall Creek Falls State Park, TN
Mammoth Cave, KY
Philadelphia
Washington DC
Jamestown
Outer Banks of NC
In 2015, we took a 4-week trip which included:
Lancaster, PA
New York City
Boston
Brunswick, Maine and surrounding area
Mt Washington, NH
Watkins Glen, NY
Niagara Falls
Which brings us to our 2016 summer trip, which will be a 5-week trip this time around. Here's the agenda as it stands now:
Leaving on 7/2 from Florida, heading north. Likely first night around Savannah, GA.
Continue northward toward Washington DC, staying wherever I feel like stopping. 🙂
Arrival at Cherry Hill RV Park, Washington DC, on 7/5. Stay 3 nights.
Leave DC on 7/8, drive to Liberty Harbor, New York City.
Spend 3 nights in NYC
Leave NYC on 7/11, heading north into the Adirondacks. Potential stay at Mt Kenyon Family Campground for 1 night.
Continue north, to Yogi Bear for the Adirondacks. Stay 2 nights.
Leave 7/14, head over the border and into Montreal. Staying at the KOA.
Staying 4 nights in Montreal.
Leave Montreal on 7/18, head on over to Quebec City. Staying at another KOA.
Stay in Quebec City for 3 nights.
Leave Quebec City on 7/21, drop south back into the United States. Stay at Balsam Woods Campground, in Maine.
Stay 2 nights
Leave on 7/23 and drive to Bar Harbor, ME. Staying 3 nights.
Leave Bar Harbor on 7/26, go to Camden, ME. Staying at Megunticook Campground for 3 nights.
Leave Camden on 7/29, go to Topsham, Maine. Right near Brunswick. Visit my father-in-law for 2-3 days.
On either 7/31 or 8/1, leave Maine and begin heading back to Florida. Scheduled arrival back in FL on 8/6, giving us 5-6 days to make the trip, and stopping wherever we decide to stop.
[wpgmza id="1″]
This will be our first major trip in the new RV (the HR Vacationer). Part of me is a little nervous about whether the trip will go off without any mechanic issues, seeing as I haven't yet done a trip of this magnitude with this particular rig.
I had the same concerns at first with the older Coachman, yet she took whatever I threw at it and didn't miss a beat. I would assume this rig will do the same.
Even if we do experience some kind of issue, the analytical side of me realizes I can deal with it on the go. There are mobile RV services all over the place. Plus, I'll be towing the CR-V with me, so if I needed to head off to take care of something, I can.
It will be a long trip. Quebec City is our furthest destination, a cool 1,644 miles from home. So, if I had to guess, we'll put an easy 3,500 miles on the rig in those 5 weeks, averaging roughly 100 miles per day.
Is that aggressive?
Well, actually, compared to our past trips, it is more easy-going. In the past summer trips, we covered more ground faster. During this trip, we're making a point to stay in several locations for 3 nights at a time without moving. Plus, unlike those trips, we'll be towing a car this time which means we won't have to move the rig at all. All in all, I expect the RV driving to be less rigorous. But surely, 100 miles per day might be aggressive to some. For us, it is no big deal. My record for one day is 450 miles driving the RV. I don't expect I'll need to hit it nearly that hard this time.
One other thing is most definitely new about this trip…
This will be my first longer trip in the RV while I have a blog about it. 🙂 This means that the volume of updates and photos here at Happily RV is about to go into hyperdrive for a few weeks. 🙂
I'll be bringing gear with me for photos and videos, including the Canon T4i DSLR, lapel microphones, the iPhone, the Stabylcam and more.
Obviously, my first priority is to be with my wife and kids, but I also intend to do the following for RVFT as we travel:
Do a daily travel log, most likely in video. We shall see. Obviously, doing videos can be more time consuming (especially with editing). But, we'll see how it goes.
Review campgrounds and attractions as we travel.
Be posting to the RVFT Facebook page and the Instagram account (most likely both simultaneously).
I'll need to strike that balance between living in the present and mentally being with my family and also blogging (which, for me, is also what I do for a living so feels a little like work). But, I'll involve the whole family and make it fun. 🙂
Friday, I'll be bringing the rig to the house and spending the whole day prepping for the trip. Until then, signing off…