Norcold Refrigerator Recall: What You Need To Know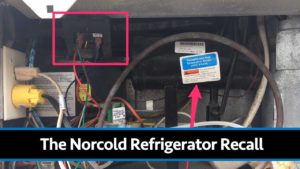 Got a Norcold refrigerator inside your RV? Yeah… me, too.
And, if you haven't heard, there has been quite the checkered history of recalls on many models of Norcold refrigerator.
Just recently, the matter came to my attention once again. In a Facebook group I belong to, somebody dropped a link to the Thetford / Norcold cooling unit recall page. They said it was a brand new recall that had to be dealt with. My first reaction: "Ah crap. Here we go again."
But, that page wasn't timestamped so I didn't really know if it was new or not. The people on Facebook seemed to think it was new.
I contacted my local RV maintenance people. I told them about it and I sent them pictures of my fridge. They called Norcold directly and got the info direct from them.
Apparently, I'm fine. Nothing really new.
However, this matter can be confusing. If you do much research into the history of the Norcold recalls, you get a lot of stories about the company being… less than upfront. I don't know how much of it is true and how much isn't, but even the lack of dates on the recall information page makes it confusing.
So, I thought I'd look into it myself. See what I could find. Perhaps help out a few other people.
The Crux Of The Matter Is…
Fires.
Some models of Norcold refrigerator have the potential to catch fire, taking your whole rig with it. And that's no fun.
The issue is with the cooling unit. A defect inside the unit (the boiler tubes). These tubes can corrode prematurely and this results in propane gas escaping. Propane gas escaping next to a heat source means high risk of fire. It is a very dangerous situation.
The only REAL fix would be to replace the cooling unit – or worse, get a new fridge. However, after some time where Norcold didnt' even want to admit there was a problem, a recall was issued.
The proposed fix was to install a high temperature sensor. This sensor would detect a buildup of heat, indicating a breach. If detected, it would cut off power to the refrigerator control board and shut down the fridge automatically. It is also a one-way shutdown, meaning that you can't turn it back on. The only solution, if it trips, is a cooling unit replacement or a new fridge.
Now, to be clear… that sensor isn't really a fix. It is a band-aid. And there have been reports of fires being caused even by units that had the high-temperature sensor installed.
Which Refrigerators Does It Apply To?
According to Thetford…
1200, 1201, 1210 and 1211, 4 door refrigerators, installed on vehicle models 1997-2010, with cooling unit serial numbers ranging from 700000 to 13085759.
Models N6xx-N8xx, 2 door refrigerators, installed in vehicles during1999-2000, having cooling units with serial numbers from 1038000 to 1099000.
It seems to be the larger fridges with 4 doors that are most problematic. Most likely because the cooling unit is being taxed a little harder to cool the larger volume of space.
Of course, I have the 1200LRIM and the serial number is in range. Yay.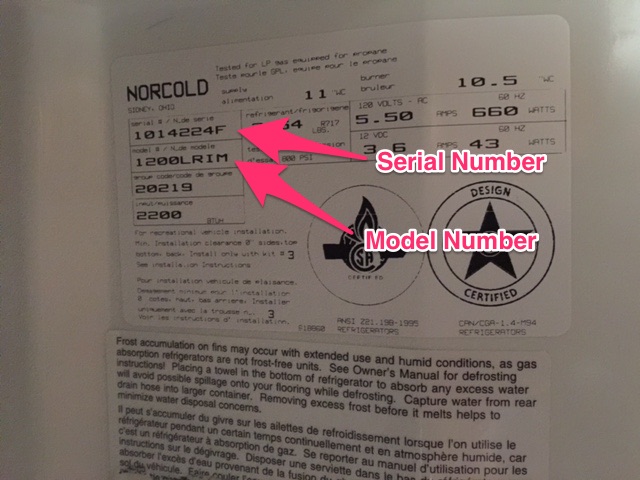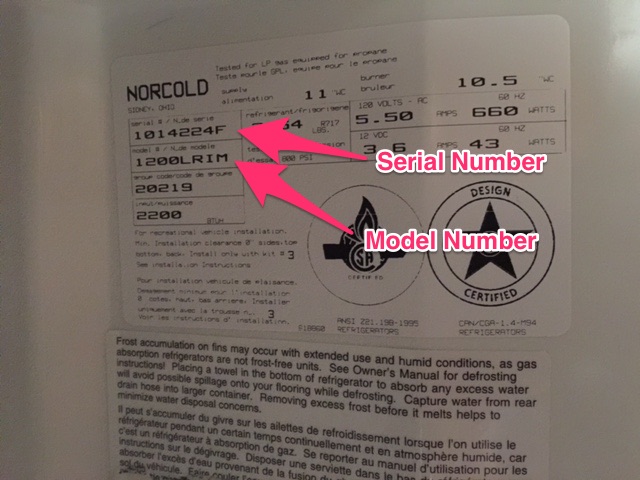 Has It Already Been Done On Your's?
I bought my current RV (2002 Holiday Rambler Vacationer) in January from LazyDays, so we checked everything before I drove away. The recall had already been done, however there was some kind of control board thing they did on it for me. I don't remember if it was part of a recall.
But, when I go out and remove the refrigerator panel off the exterior of the RV, I see this: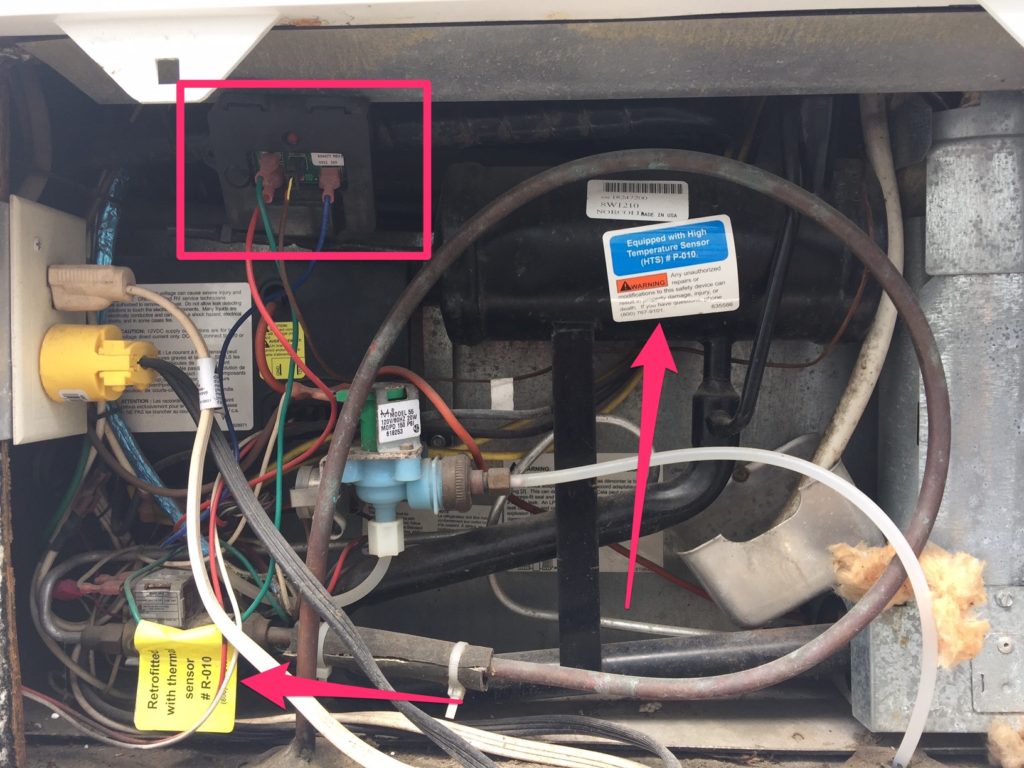 You can see the high temperature sensor installed. They also have it labeled to make it very clear.
How To Be Preventative
As mentioned before, having the recall done on your fridge is priority #1. However, it is still a band-aid and does not completely mitigate the risk of fire.
When the boiler tubes develop a crack, the unit will leak ammonia and hydrogen. Both of them are highly flammable.
So, you should inspect the inside of your RV refrigerator periodically. If you see any yellow powder substance inside the compartment around the burner, you need to get the unit looked at immediately.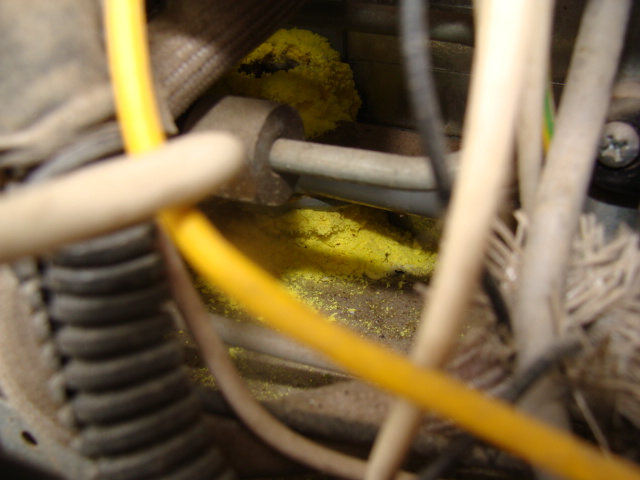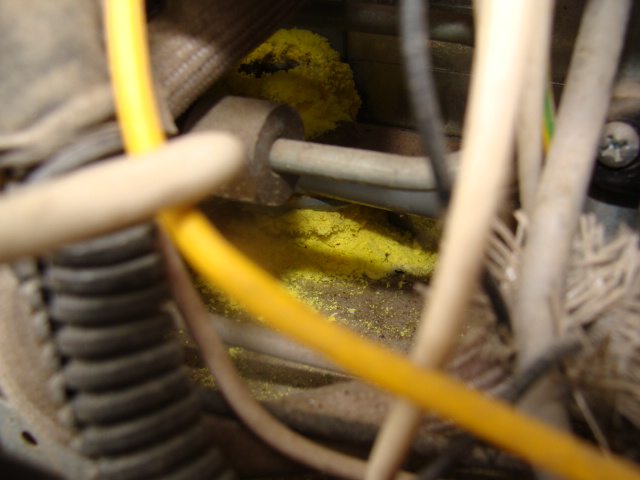 If you ever smell any ammonia, shut down the refrigerator and seek immediate service.
This is just one of those things to look for periodically and be aware of.
Aside from that, continue camping and having fun. 🙂
If you want a more thorough history of the Norcold issue, Malia's Miles has a really thoroughly researched post about the Norcold issue. She also links out to a bunch of forum discussions on the issue.
JerArdra, from the RVForum, also posted a rather ingenious hack where he installed a smoke alarm and fire extinguisher specific to his refrigerator. Click here to check it out.
Lastly, some people believe that switching out the cooling unit for an Amish-built unit is better and safer. Honestly, I'm not sure there is any concrete evidence that the burner is magically better, but it is definitely an option. Here's a video which shows it:
Hope that helps somebody. 🙂