Heading West. And Our Hottest Day In The Motorhome In Little Rock
We left on our big summer trip out west on Wednesday. I decided not to take I-10 this time, but instead to head up to Atlanta, then catch I-20 and, ultimately, I-40 west.
We were grabbing one-nighters the whole way. Not driving particularly far each day. I've never been a fan of driving very long days. Besides, we have a motorhome so why rush? 🙂
As we headed west, we got into the deep south. And it is HOT!
Our home base in Florida is quite a bit cooler by comparison.
We stayed at Fulton Recreation Campground in Fulton, MS for a night. We went out to check out the lake and it was just brutal. The weather app on my phone showed a "feels like" temperature of 108. It was humid as well. But, we had a great nightly rate of just $22. Can't beat that!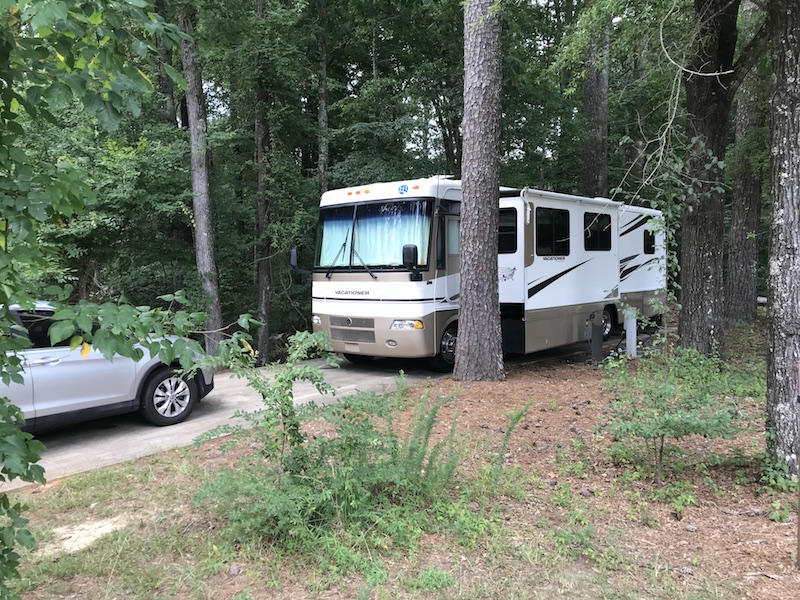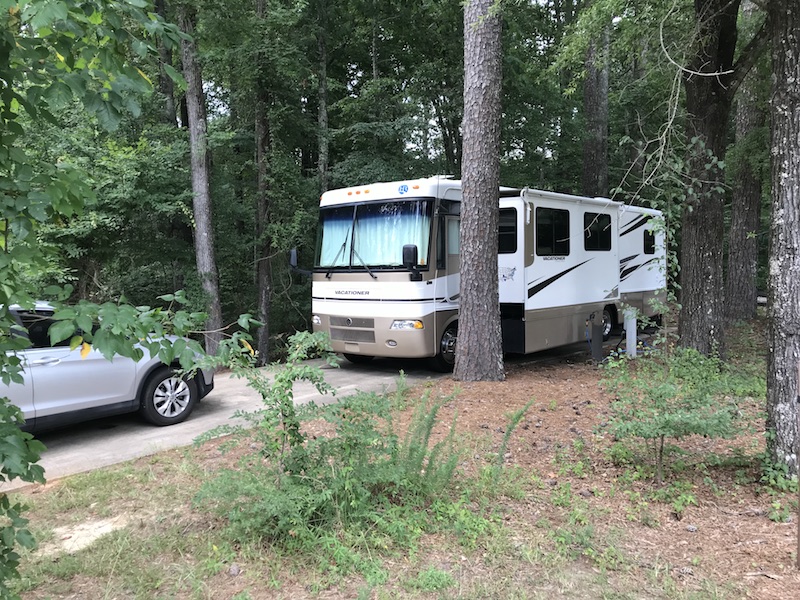 The next morning we proceeded to Little Rock, AR and we stayed at the North Little Rock KOA.
Once again, super hot. The real temperature reached 102 and here's what my phone app said in the afternoon: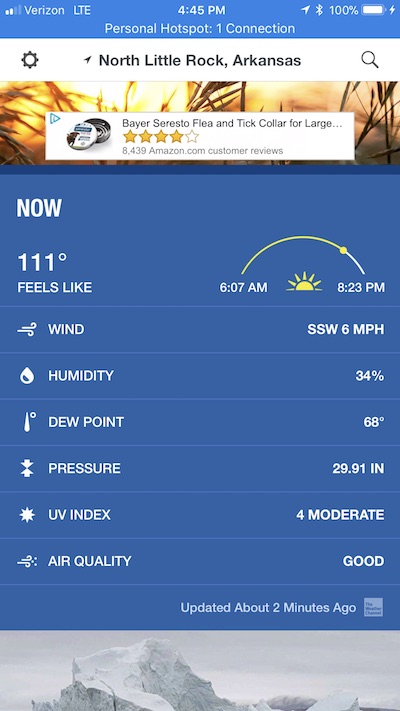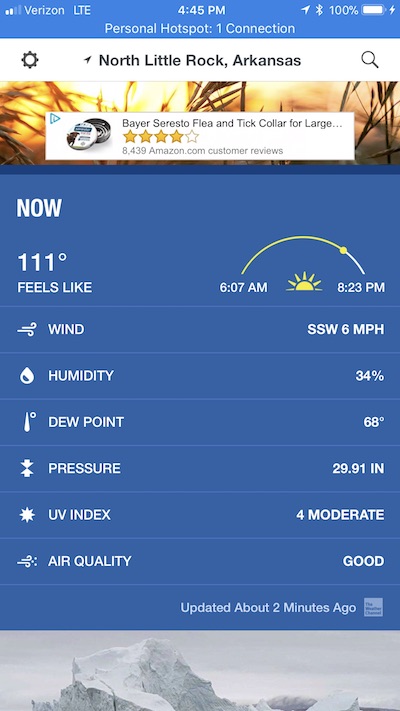 We stayed in Little Rock for 2 nights. It is close to our halfway point on the drip to Durango, CO. I also wanted to take a little break from driving daily and get some work done. I continue to run my business from the road. The great thing is that my business is not directly tied to my time. So, I can spend a day getting some things done and then it can coast fairly well throughout the week.
This weather in Little Rock is the hottest weather we've ever experienced in the RV. Better yet, our campsite didn't have much tree cover at all.
So, we busted out our army of reflective window covers and covered up several of our sun-facing windows. The windshield is the worst offender so that one was covered up right away. But, even the skylight above our shower turned into a heater in the afternoon. On our second day, I had to tape up a window cover to the ceiling to keep the heat from radiating into the interior.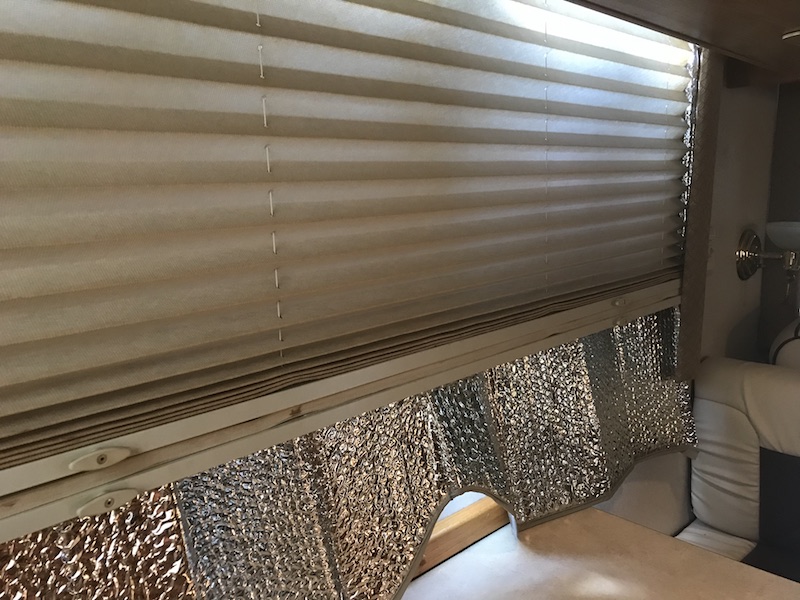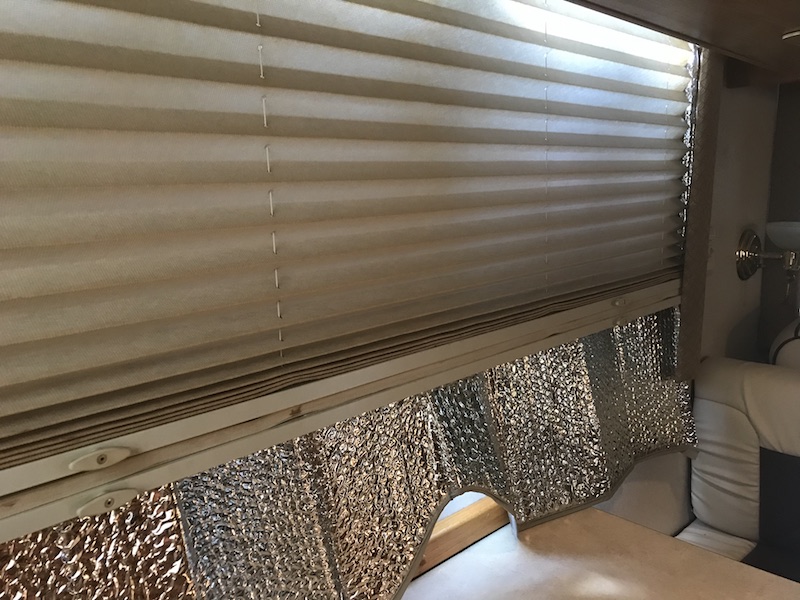 With all the window covers and the AC's both cranked up, it was quite comfortable inside.
I also ran the two fans I had installed in the refrigerator vent stack. Just for good measure, I even pointed a fan from the ground straight up into the vent for the fridge to help air flow. These RV refrigerators don't work like a home fridge so hot weather definitely affects the coolness of the fridge. The "trick" is to enhance airflow through the stack.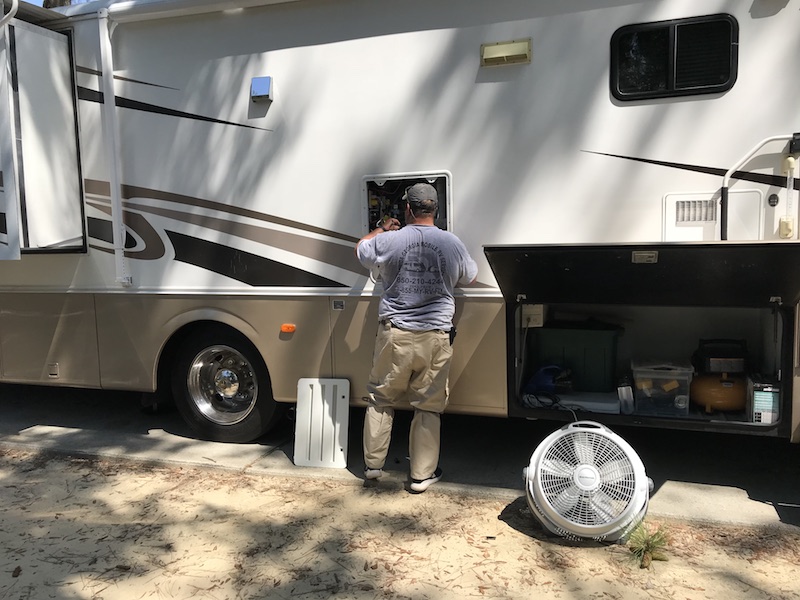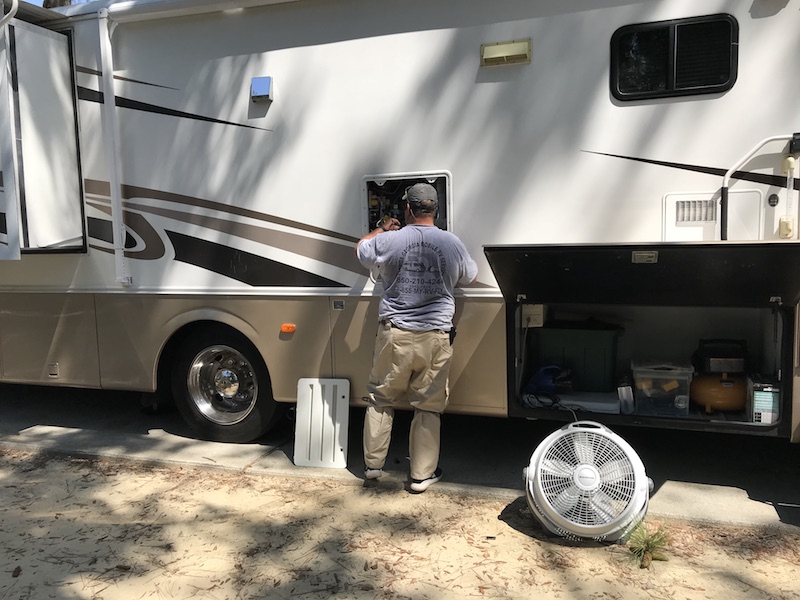 So, that was Little Rock, Arkansas.
As I write this post, it is Monday morning. We'll be heading out today and continuing westward. We'll be landing somewhere in Oklahoma today. Once again, not too far of a drive since we're in no hurry and don't plan to pull into Durango until Friday.